There is no professional course that could make you a pro at pregnancy or dealing with motherhood. We all learn with our experiences and our experiences pass on to our friends, relatives, acquaintances, and our coming generations.
With new evolution in technology, motherhood and nursing have also changed and owning to the new developments the mothers today are fortunate to get assisted by some of the best equipment in nursing, rocking chair for a baby being one of it.
What actually is a rocking chair?
A rocking chair could also be referred to as a nursing chair. It is a chair that basically has some motion to it, and while a mother sits on it with the baby, the chair tends to provide relaxation through the feeling of being on a calm swing.
This chair is designed to let the baby feel being in the womb, and that calms the baby down, which is followed by some amount of relief to the mother.
Nursing on a rocking chair shortens the feeding time and effort. Calms the baby down in the least time, and let the mother grab some time for her.
Is a rocking chair good for a baby?
The notion that newly developed technologies might not be good for newborns and could harm the mental and physical health of newborn babies is totally a myth that needs to be cleared. If you too are under the confusion, is a rocking chair good for babies?
Can our babies grow normal while spending more time in this chair, then you definitely need to continue reading further?
All you need to understand is babies love movement be it in your arms, your hands, or in the rocking chair. Moving the baby is a certain motion that lets the baby like still being in the womb and that calms them down. This is exactly what the rocking chair does.
The act of rocking provides a soothing effect to the mind.
Rocking comforts our brain and soothes us to falling asleep.
Rocking lowers our heart rate, resulting in feeling calm and less anxious
Rocking allows the baby's bones to stretch and feel relaxed. It also relaxes the muscles of the baby aiding in better grown and development of the baby.
However, a continuous habit of sleeping on a rocking chair could be harmful in long run due to its addiction. If your baby starts to sleep only on the rocking chair, you would find it difficult in the long run to calm your baby down in an environment otherwise, hence causing you discomfort.
So, can rocking chairs harm babies? No, a rocking chair doesn't harm babies but can make them addicted to it. This addiction would cause inconvenience to the parents in conditions where rocking isn't possible.
Do you really need a rocking chair in the Nursery?
The act of nursing should be done in a way that calms the baby down, lets him have a good feed, and sound sleep.
A rocking chair is designed to let you move back and forth while nursing your baby; it is crafted in that way. No other mechanism is attached to it, and even if you are not using a rocking chair, you tend to move your baby front and back in your lap. Thus, adding the rocking chair to your nursery would be an added advantage.
However, you as a parent should always make sure of your posture. You should neither bend too much nor shake too hard while nursing on a rocking chair. Aggressive movements or shaking could brain damage your baby, and bad posture could result in unwanted pain and stiffness in your bones and muscles.
While you are using the rocking chair in your nursery, you need to take a few factors into consideration;
Take proper care of your posture while you sit on the chair. Do not bend too much; this might result in severe back pain and stiffness in your shoulders.
Do not spend a lot of time on the rocking chair. A few minutes before your baby goes to sleep are enough. Do not make rocking a habit.
Avoid fast or aggressive movements. You should move calmly and playfully while nursing your baby.
Hold your head straight and in good position, in otherwise case problems in the spine could occur, especially if you are a spondylitis patient.
Rocking chairs help in nursing, providing relief to mothers by saving both their time and effort invested in the process.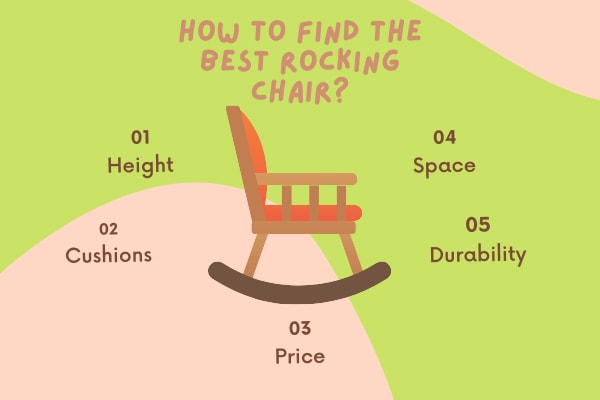 How to find the best rocking chair?
Now, finding the best rocking chair could be a challenge if you are just introduced to this piece of furniture. Taking advices and recommendations from known people could be of help, but might not solve the purpose completely.
Hence you definitely need to have an expert view in choosing the right chair. Hence we bring to you a few aspects that would guide you to choose the perfect rocking chair for your nursing needs.
Height
The height of the chair should be such which doesn't let you feel being too above from the ground. It should let you touch your feet to the ground easily while you wish to get up. In the otherwise case, the act of getting up and putting the baby to sleep on the bed could be uncomfortable.
Cushions
The seat, back, and armrest of the chair should be properly cushioned and padded. Comfort is a must, and make sure you check the chair on this factor.
Space
The chair should have enough space to let the parent fold legs while sitting on the chair. There should be enough space on the chair to fold legs and sit with the baby. Take this fact into consideration. 
Durability
Durability comes from assurance and assurance is offered by the brands in the form of a warranty on a furniture piece. Look out for brands that offer a warranty, no matter you need to pay a few extra bucks for this.
Price
And then comes the price, always compare the price of the product under different brands and sellers. Also, compare the prices amongst online and offline dealers. This also makes a lot of difference many times.
Thus, this is how you could lead yourself to the best rocking chair for your nursery.