Sometimes when you have a lot of work in the office, you get so much lost in the work that you don't even realize about your seating or typing posture the whole time. Unfortunately, most people are not aware of these improper typing postures and the only thing they get is a pain in the neck, back, and hands.
We often think the pain is due to long hours of work in the office but it is not the hours rather it is the incorrect postures that hurt our body. Here we will talk about a few improper typing postures, it's consequences on our body, and how to fix them easily?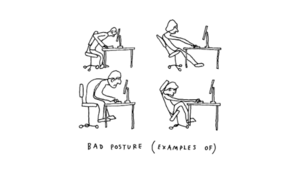 Common Improper Typing Postures
There are several different types of postures while typing but is it a correct typing posture? To decide that you should know different types of improper typing postures.
Here we have prepared a list of the commonly practiced improper typing postures with Images.
1. Extended Wrist
This one is perhaps the commonly practiced typing postures in the workplace. Sometimes, your keyboard is placed at a higher position than your wrists so you have to put an extra effort to extend your wrists and reach to the keyboard buttons.
Then you start typing on the keyboard and after some minutes you have to take a break from typing because you feel pain in your wrists.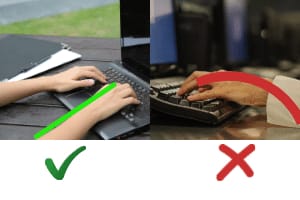 Solution:
Lower your chair seat and raise your wrists to bring them parallel to the Keyboard. In an ideal position, the keyboard and your wrists should lie in the same plane(straight) without any angle.
2. Shrugging of Shoulders
The second type of improper typing postures is desk is very close to your body so you have to squeeze your body to perfection. This squeezing of the body puts you in a very awkward kind of situation where your body is locked in an uncomfortable situation.
It puts extra pressure on your shoulders and elbows. There is one important thing to keep in mind that some people have this habit of sitting with shrugged shoulders while working. This makes them feel better while typing but is a very improper technique and you should avoid it.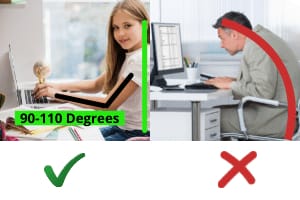 Solution:
Raise your chair seat and lift your shoulders to keep them in natural positions. When your arms stay within 90-110 degrees it is an ideal position to type. Always keep your neck and back parallel to form a straight line.
3. Extended Arms:
The third posture is the reversal of the closed elbows. In this condition, there is too much space between the keyboard and your arms so you have to extend your arms to reach the keyboard. There is an extended angle between the computer and your arms and this is causing heaviness on your arms.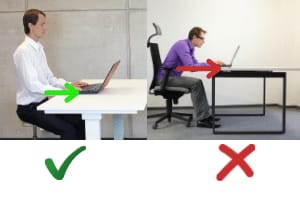 Solution:
Do not keep the keyboard at a long distance so that you have to extend your arms to reach for it. Keep the keyboard near to your arms up to a maximum angle of 110 degrees. That is an ideal position for arms while typing.
4. Improperly Positioned Mouse
Mouse plays a crucial role while typing or using a computer. People practice is that they put the mouse lower or higher than the keyboard. Some of the people also put the mouse in an extended position. All this misplacing causes strain in your hand.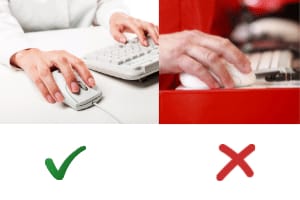 Solution:
Don't keep your mouse at an elevated or lower position than your keyboard. Your keyboard and mouse should stay parallel and straight in one plane.
5. Pressing keyboard buttons too harshly
Now, this is a behavior exhibited by most people when they have to type faster and have a lot of writing. They type the buttons too harshly thinking that it will help them type faster. This is not the case.
To type faster and too with a perfect technique are two different approaches. It also causes soreness on your fingertips and after typing for three to four hours when you need a break from the work, your hands feel swollen.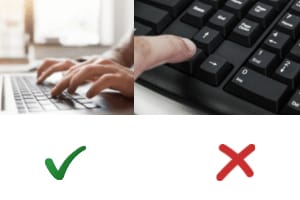 Solution:
Persons with good typing skills always use gentle strokes to type. This helps them to type faster and more efficiently. Gentle strokes put less strain on your fingers, wrist, and your hand.
6. Improper Wrist Placement
Another common mistake is improper wrist placement. Most of the times your wrist is not aligned with your hand or you may be putting too much pressure on the wrists.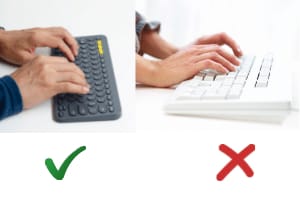 Solution:
Keep your wrist aligned with your hands. This will put lesser strain on your wrists.
Negative effects of Improper Typing Postures:
Several problems can arise from poor typing postures. They are broadly defined as Muscoskeleltal problems and Carpel Tunnel Syndrome.
1. Musculoskeletal Problems:
Musculoskeletal problems refer to improper typing postures which can result in back and neck strains. As we have explained the common postures, slouching and hunching on the keyboard results in putting extra pressure on your hands, back, and neck.
There is one important to highlight here this pain is not the result of the prolonged use of a computer, it is the prolonged use of the same inappropriate technique to type. Let's look at these problems individually.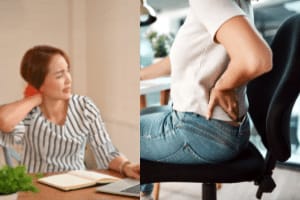 Neck strain the acute pain caused on the neck. When the neck is locked in one position for a couple of hours then the muscle and tendon present in your neck get stiff. There are some other factors associated with this problem such as sleeping in a bad position and jerking your neck during an exercise.
As explained in the improper postures, when the back remains in one position for a longer period then it affects the nerves present in your back. In an acute stage, you have to take medications on daily basis to reduce tensions on your back
4. Carpel Tunnel Syndrome
When the tendons present in the wrist swell during long hours of work then it affects the median nerve which runs through your forearm and your hand. CTS causes acute effects on your hand such as numbness and tingling. It feels like an electrical shock in your hand sometimes.
Fixing the Improper Postures
Gladly the solutions to these postures are not that completed, you just need to make some slight adjustments in your work and things will be alright. Here are some easy adjustments that you need to follow:
Agronomics means the angles made between your elbows and keyboard. You need to adjust the angle between 90 and 110 degrees.
The correct stance of your wrists
The perfect stance for your wrist is in a neutral position. You need to place them in a neutral position to avoid soreness in the hand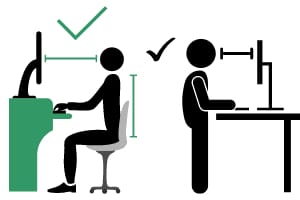 Set up the monitor at an eye-level
This is again a very slight adjustment. The monitor has to be on eye level so that you don't have to slouch.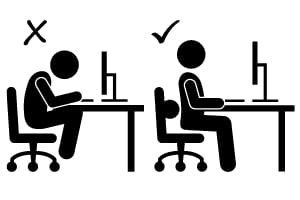 Sit perfectly on the chair
The perfect position to sit on the chair is your back and neck in a straight position. The feet should be flat as well.
Conclusion
To wrap up, so now you have noticed that correcting a posture is not that difficult a job. All you need to do is to enlighten yourself with the problem that you are facing and then try to make slight adjustments to it.