Bar chairs are high because they are designed while considering the height of bar tables and counters. People can maintain eye level with the people standing close to them and comfortably sit on the chair. In this piece, we will talk about why bar chairs are designed tall and the options to adjust according to the height of the table and counters.
Why were Bar Chairs Designed so tall?
Now we are going to talk about why they were designed in this way. These are the reasons why are bar chairs high and tall. One of the main reasons for developing them in this way were:
1. Socialization
People like to conversate with others while taking sips of their drink, and sitting on a short-height chair will be uneasy for them. Also, they want to sit close to the counter while chatting with their friends to conversate with the customers and workers.
2. It takes up less space
Tall bar chairs are narrow and take significantly less space as compared to regular chairs or stools. Bar owners prefer these chairs because, in this way, they can squeeze more tables into a narrow margin. It also invites more customers to the tables.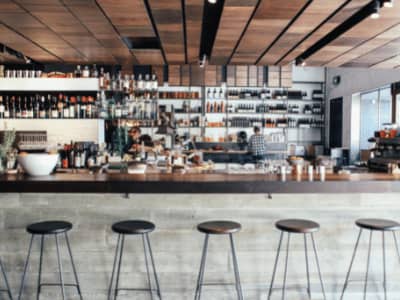 3. To maintain close eye contact
Some people in the bar like to sit while drinking, while others like to stand closer to the table. Bar chairs provide ease for both. A person who chose to sit can maintain eye contact with someone who preferred to stand while drinking.
4. Ease for customer and bartender
Bar chairs are great both for the customer and the bartender. Customers can be served while sitting comfortably on the chair. A short table would have been very inconvenient both for the bartender and the customers.
What are the different height options for bar stools?
There are four standard heights available in the market, and we are going about all of them individually.
1. Short height bar chairs
These are the shortest on our list. The height of this bar chair falls between 22-24 inches. The size can vary a bit depending upon the preference in your local market.
They are used in Cafeterias, where the standard height is 29-30 inches. Another option is used for dining tables, and its size is even shorter at 17-18 inches.
2. Counter height chairs:
These chairs fall in the medium range. They have a height of 28-30 inches. Counter bar chairs are used in restaurants countertops. Also, they are used in the home kitchen.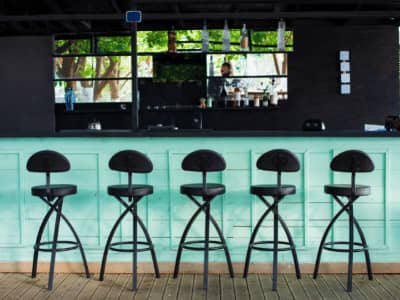 3. Bar height chairs:
These are taller than the types mentioned above. They were exclusively designed for bars, pubs, and lounges.
The height of this chair falls at 32-35 inches with a 42-45 inches bar table.
4. Extra tall bar chairs
These are the tallest of the rest of the chairs. They are paired with the most elevated bar table options. The average height of these chairs falls at 35-38 inches. They are paired with a 48-50 inches bar table.
| | | |
| --- | --- | --- |
| Name Of Bar Stool | Bar Stool Height (In Inches) | Counter Size (In Inches) |
| Short & Dining Height Stool | 22"-24" | 29"-30" |
| Counter Height  | 28"-30" | 32"-34" |
| Bar Height  | 32"-35" | 42"-45" |
| Extra Tall | 35"-38" | 48"-50" |
What is the maximum height for a bar chair?
Bar height chair with a height of 35-38 inches is the tallest among the others. However, another bar chair type is called the extra tall bar chair tool, the tallest among all. The extra tall bar chair has a height of 39-41 inches. The extra tall bar chairs are not widely used, so most people don't know about them.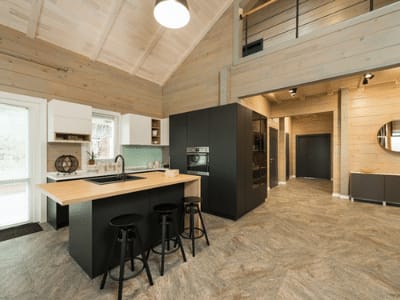 Why and how the bar chairs were invented?
Although it is hard to determine why bar chairs were invented however one of the explanations that could lead to its answer is that they were evolved from the bench. In the stone age, bench-style seating was prevalent. In the modern world, they were used to comfortably in front of a bar counter.
How the bar chairs got popular?
Initially, the bar chairs were made of wood, but demand and popularity increased manifolds after the Industrial Revolution. Now there are so many options for bar chairs. You can pick any color, material, and height.
Also, the seating is adjustable, and the material used for its seating has also increased. They are used for casual gatherings such as pubs, restaurants, and kitchens.
How to Find a Perfect Height Bar Chair?
What seat height should I choose for my bar chair? 
This is considered an important question as there are so many determinants which you need to consider while finding the perfect fit for you. You need to ask these four essential questions to find the perfect bar stool for your place.
How tall is my bar, counter, or worktop?
This is the first question that should pop up in your mind. A perfect bar chair will maintain the position of the counter table. Here, it is recommended that you leave a 30-35 cm gap between the chair and the counters. The distance between your legs and the bottom edge of the table should be 10cm.
How to employ the tall chair?
It depends upon how the chair will be utilized in the place. Is it going to be used by adults or children? Can the guests afford to sit away from the seat for a long time, or do they prefer to stay closer?
Should I go for armrests or not?
It also depends on the previously explained question. If you want armrests on your chair, you also need to consider the seat's height concerning your surface.
Should I go for backrests or not?
Bar chairs are also available with the option of using them with or without backrests. Backrests will provide more comfort to the customer even if the backrest is small. A bar chair without a backrest will slide more efficiently under your surface to free up some space.
To wrap up, the bar chairs are designed based on their usage. So, if you are planning to buy a bar chair for your place, make sure you get the measurements of your place and read this guide to get your preferred bar chair.