Are your employees safe at the workstation? The question is tricky, maybe confusing, or maybe hard to determine, but it is really crucial. Yes, this is the most important question you need to ask yourself, and people need to determine. Are we safe at work? Are we prioritizing our mental and physical health? Are we doing enough for the well-being of our bodies? The majority would answer a plain, NO.
There's a lot of debate as to Should Office Chairs Have Armrests? Do they contribute towards relaxing our body and enhancing our productivity at work?
Even while you are reading this, if you'd notice, a lot of you might not be putting your arms on the armrest. Ok wait; recall your position at work. Do you use your chair's armrest every time when you are at work? A lot of you would say, no, and that is the problem.
If you too have faced this dilemma at work, here are some facts that would clear the picture.
Look at some Research
The Business and Institutional Furniture Manufacturers Association (BIFMA), has stated in its research the importance of armrest in a chair. The research says, armrests have the ability to support the muscular system of shoulders and neck, and it also provides support to the person using the chair to sit and stand without getting any jerk in the process.
However, the armrest should not obstruct the work of the user, and it is done so, the armrest should be adjusted to provide maximum support to the forearm, and prevents the arm to hang in the air. This is why it is advised to look out for adjustable armrests when buying an office chair.
Although armrests are usually part of the chair, if you buy a chair without an armrest, there are also alternative products. Like a detachable armrest, this could be attached every time when you work on your station.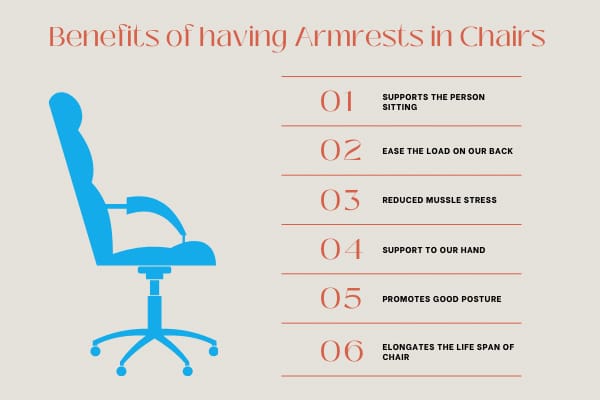 Why Should Office Chairs Have Armrests?
Let's Discuss 'Rethinking Sitting' By Peter Opsvik
So we will not like to draw your attention to a book that is titled, "Rethinking Sitting", written by Peter Opsvik. The author is an industrial designer from Norway, who works to find innovative and ergonomic chair options. In the book he says, 'while we are sitting at work, our arms need proper support to move and work inconvenience.
So, he further explains the same through various factors that we'd explain below for your understanding;
When we work using the armrest properly, we automatically ease the load on our back. This is because the weight of our arms and hands is now relaxed on the chair's armrest, and we aren't pushing it to our shoulders or back.
Moving hands, or raising them to perform any random operation would cause muscle stress, and this is released or reduced when we work keeping our hands on the armrest.
And finally, the most important fact is, when we have support to our hand through the use of an armrest, our hands perform the operations smoothly and precisely. Thus, boosting our productivity at work.
Using the armrest promotes good posture, we keep our forearms just at the right angle, and through this, the other parts of the body also lie in the perfect position. This not just relaxes our arms, shoulders, and backs, but also keeps our legs in a neutral position.
When you use an armrest while you work on your workstation, you basically tend to put lesser pressure on the chair. And this elongates the life of the chair. So another benefit in long run, that surely adds a plus point to use a chair with an armrest.
Chairs with armrests provide a proper place for our arms to rest. Otherwise, if we sit on a chair that doesn't have an armrest, we usually take quick breaks, and we tend to relax our arms by placing them on our laps, or by using the table to provide support.
So the research proves, support to our hands is a must, and nothing besides chair armrests could do the needful aptly.
What do Pro Gamers think of Armrests?
We are here talking about the views of the pro gamers, only because of the amount of time these people spend on their workstations with their computers. Gamers are often found glued to their systems, and this puts extreme pressure on different parts of their body.
So, it becomes even more important to find out what pro gamers think of armrests, and whether they approve its use.
Pro gamers do use armrests when they spend hours playing their favorite game. What makes gamers proficient is mental peace and physical well-being. Only then do these people put all their minds and efforts into the game and turn out to get extraordinary results.
And yes, a large category of pro gamers have emphasized the use of armrest and its importance while working or playing and spending marathon hours in front of the system.
Importance of Adjustable Armrests in Chairs
Now moving towards the conclusion, we need to put some light on the importance of adjustable armrests. Look an armrest is definitely a great support for your hands and improves your efficiency at work, but if the armrests are not in the right position, it could cause severe damage to your body.
So it is really important to find a chair with an adjustable armrest, where you could adjust the height of the armrest and keep it at a most efficient position in accordance with your workstation.
There are a lot of options for ergonomic chairs, both offline and online, while you select a chair for your office, make sure you look for a chair with adjustable armrests. This contributes greatly to your physical and mental health, and also towards your productivity.
Bottomline
So bottom line, armrests keep you safe at work by providing better stability to your body and protecting your arms against all damages.