I would like to start by quoting a report stated by Digby Brown Solicitors, which said, 'majority of work-space related injuries are a result of unsafe, outdated office furniture. By safe working environment we mean, a workplace that is designed specifically to suit the changing needs of the employees, including furniture that is crafted to take good care of the different body requirements.
To meet the changing work environment, ergonomics got introduced. Ergonomics is basically the process of designing a workplace in a way that prioritizes workers health and well-being, thus, introducing ergonomic furniture into the scene.
Talking of ergonomic furniture, specifically ergonomic office chairs, these are fabricated to be adjusted into various formats that suit the different body types aptly. The steep rise in demand for ergonomic chairs for office use is evidence of its pro-health abilities.
And thus, here we talk about everything you need to know about ergonomic furniture, including the pros and cons of ergonomic office chairs.
Why do you need Ergonomic Office Chairs?
Putting the reality straight, Ergonomic office furniture is pricier and would cost you those extra bugs while you plan to change your office environment.
Realistically, it might not be possible for the management to change the entire office all at once, but doing it slowly and gradually would only bring you benefits in long run. Let's take a look at some details that explain why exactly you need this shift; what makes ergonomic chairs so important for your office;
Great Health Benefits–
Sitting in a bad posture could result in the development of musculoskeletal disorders that could bring permanent damage to your neck and back. To avoid this, you definitely need to make a change to your sitting style.
The topmost reason you need to buy an ergonomically designed chair is that it enhances your back. Let your spine relax, your keeps your joints in neutral positions. For great health benefits, good decisions need to be made.
Better Comfort–
Even if you take regular breaks, you end up spending 6 hours a day on your office chair. Feeling comfortable while working is the least you need, and hence using a chair design that enables better comfort is your right.
Enhanced Productivity–
Better comfort means more attention towards work. Pain in the back or neck, stiffness in the shoulders would automatically result in reduced productivity. Thus, when you choose to be comfortable at work, you definitely would be more productive at work.
Cost-Saving
Cost Saving in long term. This is hard to believe, yet true. A one-time investment in ergonomically designed office furniture saves you big costs in long run. Ergonomic chairs are pricier, but durable and come with a certain period warranty, which provides better assurance for the quality of furniture in an office.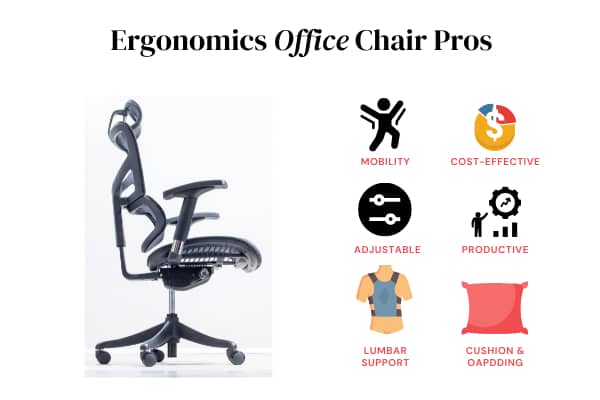 Pros and Cons of Ergonomic Office Chairs
There's been too much talking about ergonomic furniture designs. Let's take a look at the fair analysis, hence below mentioned are the pros and cons of ergonomic office chairs, so that you know everything before you invest in your office furniture.
Pros
1. Adjustability
Adjustability is the most talked-about advantage of ergonomic chairs.  You can adjust the height of the chair, the position of the headrest, armrest, back, etc. Easy-to-operate adjustment knobs make every chair take a customized shape for individuals with different body types.
2. Productivity
With better comfort comes enhanced productivity. Ergonomic chair designs reduce stress on the body, and hence better results are attained in minimum time.
3. Health Benefits
Ergonomic chairs are designed to provide ultimate support to your back. It has the capacity to adjust according to the shape of your spine, and that is how your spine gets proper support. This reduces pain in your back.
These chairs are designed to keep your joints in a neutral position, protecting you against joint pain. Besides this, adjustable armrests provide space for proper positioning of your arms, and that's how your shoulder doesn't get stiff during your work time.
4. Lumbar Support
Ultimate lumbar support is enabled in ergonomic chair designs. The backrest is adjustable through which you adjust the chair exactly as your back needs it. Your spine fits into the chair aptly, and you get suitable lumbar support throughout the time you sit on the chair.
5. Additional Padding
Additional padding and seat cushions in the chair ergonomics are meant to relax your body while you are at work. This lets you balance your body weight on your hips, and that is how no part of your body gets stressed.
6. Mobility
High-quality swivel options let you move from one place to another while you are at work. Top-quality wheels enable you to move freely and that you how you get to use a major part of your work area while you sit on your chair. This is yet another advantage of buying top-quality ergonomic office chairs.
7. Cost-Effective
Ergonomic office chairs are cost-effective in long run. You could say this is a one-time investment that fetches you better results for the long term. These high-quality office chairs are durable and the brands offer a warranty on the furniture which could be easily replaced to repaired any case of any defect or damage.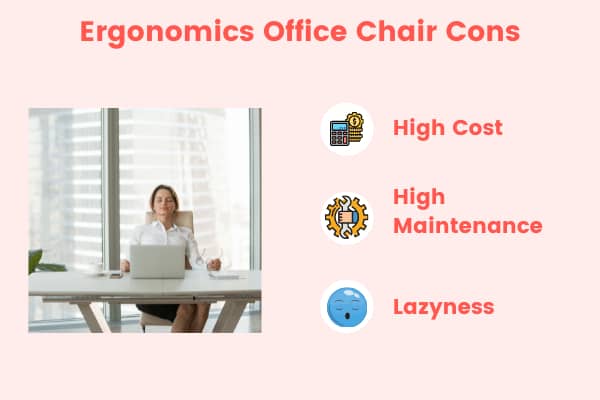 Cons
1. High Price
Ergonomic office chairs are expensive; they could be almost double the cost of your regular chair. On average, the starting price of an ergonomic chair is $100, and that would ultimately increase your expenditure manifolds.
2. High Maintenance
You would end up paying higher maintenance while you use ergonomic furniture for your office. The parts of the furniture are usually expensive and hence increase the maintenance cost.
3. Laziness
Ergonomic office chairs could make you lazy. The comfort and calmness you feel while sitting on the chair are unparalleled, making you lazy. This abstains you from taking the gaps in between work which you should necessarily take.
Thus, the advantages of ergonomic office chairs overpower their cons. You definitely need to give a thought to revamp your office furniture for enhanced productivity.
Why is it important to have an ergonomic chair?
An ergonomic office chair reduces the strain on your body by eliminating or reducing the effect of bad typing or sitting posture. They provide excellent lumbar support and enhances your mobility while seating on a chair. Increased mobility reduces strain on legs and other body parts.
Are ergonomic chairs good for your back?
They are excellent for your back support and they have the best lumbar support. An ergonomic chair is designed to help you correct your posture so your back bears minimum impact from long hours of work.
Are ergonomic chairs bad?
No, they are not. They are way ahead of the standard chairs we use at the office or at home. Standard chairs do not support our body structure and we feel more tired after long hours of work but ergonomic chairs aren't.
How much does a good ergonomic chair cost?
Ergonomic chair's price starts from 100$ and goes up to 3000$. A good ergonomic chair has great mobility, lumbar support, height-adjustable, thick padding, comfortable fabric, and more.