Every piece of furniture comes with a warning regarding its weight-bearing capacity, and so do office chairs. Majorly, all standard office chairs can bear an average weight of 250 Pounds or 113 Kilos. However, various options are available in the market, which is designed to handle different amounts of weight.
A lot of people work in offices. When you're sitting at your desk all day, your body takes a beating. Chairs are designed to be comfortable, but their primary function is to provide support for the lower back and spine while sitting upright. But how much weight can an office chair hold?
Office chairs and their weight limit contribute primarily towards the life of the chair and the comfort it offers. Therefore, the weight limit is an essential factor, and it needs to be considered while buying a chair.
Good quality chairs are designed to support more weight, but at the same time, they are expensive and hard to afford, especially if you lack an extensive budget for your office furniture.
We will break down the different kinds of chairs and their changed weight-bearing capacity in this following write-up.
Why Weight Holding Capacity is Important for a Chair?
But, before that, let us first know why it is even essential to check the weight-bearing capacity of an office chair. 
Checking the capacity is crucial because, of course, you don't want to embarrass yourself in front of your entire office. 
If you do not check the weight-bearing capacity of your chair, you'll end up damaging your health. Likewise, trying to adjust in a small chair will eventually cause health issues.
There are more significant chances of injuries while trying to adjust in a small-sized chair. So beware!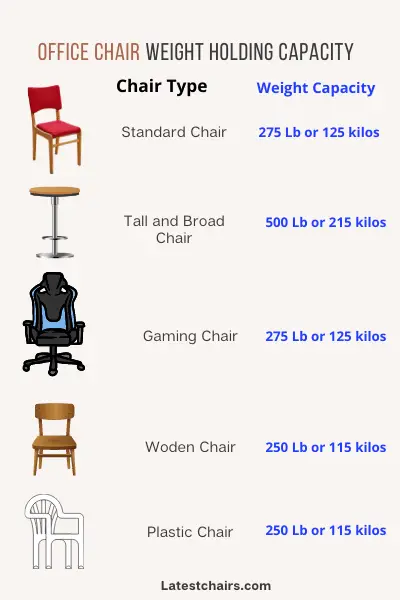 Types of chairs with their weight capacity
We can broadly classify office chairs into five kinds. Let's take a look
Standard chairs
Tall and broad chairs
Gaming chairs
Wooden chair
Plastic chairs
Standard Chairs
Standard office chairs are the average-sized chairs that are sold in large numbers. Mostly all office chairs are standard sized, and these are designed in different materials and diverse looks.
Standard office chairs are high in demand; they are the most sold chairs as far as office furniture is concerned. A large section of plus-size people are still using standard chairs for their daily work, but they need to differentiate between a standard chair and a tall chair.
The average weight limit of a standard office chair is 275 pounds or 125 kilos.
Tall or Broad Chairs
Tall and broad chairs are designed for big size people. Plus-size people need equal comfort at the office, and tall or broad chairs are designed specifically for them. These chairs are structured the same as a standard chair, just that the size varies a little in terms of broadness and weight limit. 
On average, big or tall chairs can handle nearly 500 pounds of 215 kilos weight limit. 
Gaming Chairs
Gaming chairs are the new topic of discussion in the current scenario. There has been too much talking about mobility, comfort, and endurance these chairs offer. Therefore, many people (who have the budget to afford it) opt to buy gaming chairs, even for official purposes.
Besides this, developers and creators make sure they invest well in a gaming chair because they need to spend extended hours sitting n front of computers.
In addition, gaming chairs tend to have an excellent weight-bearing capacity, and this piece of furniture can handle almost 275 pounds or 125 kilos of the weight limit.  
Wooden Chairs
On the other hand, wooden chairs give equal competition to standard office chairs in terms of the weight limit. However, if you rank this piece of furniture based on comfort, you'll not like it at all.
Wooden chairs aren't too suited for office; basically, they cannot be as comfortable as other ergonomic designed office chairs. In addition, wooden chairs are usually not handy, and hence a very few offices will have wooden chairs as an integral part of their office furniture.
Nevertheless, about the weight limit, wooden chairs can handle weight equivalent to 250 pounds or nearly 115 kilos.
Plastic Chairs
Plastic chairs are cheap. You will usually not find plastic chairs in offices unless people have significantly curtailed resources for their office.
These chairs are almost equivalent to standard office chairs, as far as the weight limit is concerned. But again, if you talk about comfort, plastic chairs are not meant to be used for regular work or computer tasks.
 Plastic chairs can bear as much as 250 pounds, as far as the weight limit is concerned.
What happens if you exceed the weight limit on your chair?
There is a complex relationship between your chair and its weight limit, which most people do not understand. Exceeding the weight limit won't show adverse effects instantly, but with time, your furniture will deteriorate and wear down at a faster speed.
Therefore, if you exceed the weight limit, you might face the following circumstances.
There are chances your chair might break instantly. However, this doesn't happen too often, but it can happen. And, you don't want to fall in front of the entire office. But, on the other hand, if you turn out to be unlucky, this sudden fall can cause severe injuries. 
If you constantly exceed the weight limit, the life of your chair will eventually decrease. You'll be left with no option but to change your chair after a particular time. The wear and tear will become unavoidable under these circumstances. 
Generally, the weight limits are not very strict, but the consequence depends entirely on how often you cross that limit.
For example, if you constantly put your chair under extreme weight pressure, it will collapse for sure. And on the other hand, trying to adjust to a small-sized chair will surely bring you health disorders for life. 
Weight limit is the indication of quality!
Yes, to your surprise, the weight limit is a definite indication of the quality and not the actual weight-bearing capacity. It is because good quality chairs are be designed to bear more weight, are expensive, and are more durable. 
Logically, the weight limit of an office chair depends on two different factors, these include;
Office chairs use compressed gas filled in the gas cylinders. The pressurized or compressed gas holds the seat of the chair in its place. It allows the user to adjust the length of the chair depending on whosoever tries to sit and fit. 
Besides this, the number of legs used in the chair decides its stability and weight limit. For example, a five-legged chair is more stable and easily movable, and you can use it on all kinds of chairs. 
Do people pay attention to the weight limit in Chairs?
People hardly pay attention to the weight limit of the chair unless the buyer is a pro. All that people primarily focus on is adjustability, quality, movability, and comfort.
However, if you are checking these factors, a reasonable weight limit comes in combination. So, the next time you go out to buy a chair for your office, make it a point to check the weight limit.
Your office should have a combination of standard office chairs and big office chairs. You never know what size of people become a part of your team, and thus, you shall have an option for all.  
However, big chairs are costly. Indeed office furniture is expensive, and you should choose wisely. Therefore, it is vital to ask about the weight limit of a chair.