Most part of our office or workspace is occupied by office furniture, and chairs are a dominant part of it. A large amount of investment done in establishing an office space is spent on buying office furniture, and this expenditure needs to be really well planned.
Office furniture, especially chairs and desks plays a leading role in ascertaining the productivity of the employees, and hence a lot of research is done on the kind of furniture one should own for their office space. Here we will talk about how to choose the best Wholesale office chairs for your setup.
Too much talking about buying the right chair
Talking of office chairs, ergonomically designed office chairs are much in demand. There's too much talking about office chairs lately, and comfort speaks louder than looks. People today are keen to buy chairs that are comfortable, good in looks, and durable.
Ergonomic chairs are dominating the market largely, and are thus high in demand. Though ergonomic chairs are expensive, but still high in demand for the comfort and quality various companies offer, because when it comes to office chairs, you cannot compromise the quality.
Thus, we thought to shift the spotlight to ways to buy the best office chairs at wholesale prices.
When you buy in bulk, you can definitely ask for wholesale prices, thus, when you plan to buy the best wholesale office chairs, you need to keep certain factors in consideration. Read ahead:-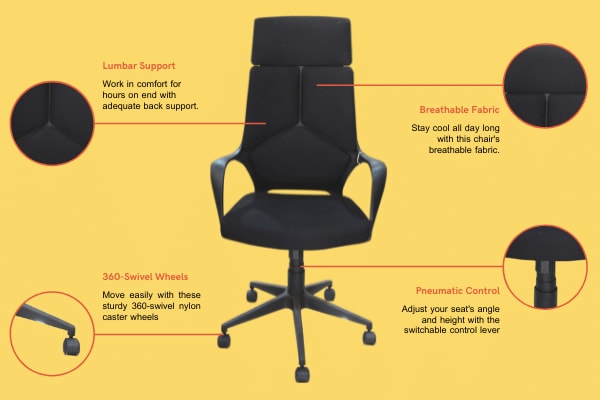 1. Comfort
Comfort should always top the chart when you are buying a commodity. In this article, we are talking of office chairs, but not just chairs, whatever you spend on, should bring you comfort.
The debate and discussion about the pros and cons of ergonomically designed office chairs always revolve around just one factor, and that is comfort. Comfort is what sells, and comfort is in demand.
An office chair should be comfortable, so when you are buying in bulk the first factor that needs your attention is comfort. Look out for adjustability in chairs. Ask for cushions, ease of use, maintainable fabric, and classy design. Ask for it all, and ask for it at affordable prices.
2. Compare Price
Do not fall for the notion that greater price means better quality. However, price is absolutely the most important factor when you are buying an office chair.
Different brands both online and offline offer deals where bulk buying is made economical for the buyer. So make sure you compare the prices. When you are buying office chairs in bulk, compare the prices from offline and online dealers.
Look out for the best deals, don't rush the process. Locate, pick, compare, and then buy. Detailed analysis plays the utmost important role.
3. Evaluate quality
All ergonomic office chair designs are almost the same with a few variations in the features. You get different variants in the market, and as per the features, the price of the product is ascertained.
All you need to do is, fix a budget for your office furniture, hunt for chairs that fit in your budget, compare their features and design, and then find the best choice.
Your best choice may not be the cheapest one. But if you take wise advice, never fall for just the cheapest-priced chair; instead, always make it a point to give quality the utmost importance.
When you are comparing the features of a chair, take the following points into consideration;
Adjustability
Fabric
Design
Ease of use
Wheel locks
Swivel options
Footrests
Armrests
Warranty
4. Brand
Every brand has its value, and the brand speaks for its quality. Choose a chair that's branded, which means the product comes with its own assurance, with the promise of comfort, quality, durability, and looks.
Different brands are offered at different values, you need to have a balanced approach. Don't just blindly trust any brand for the sake of its name, comparison is a must.
In a wide market range, where office chairs are fabricated and sold under vast brands, choosing a perfect one could be a bit confusing. The best way is to read the reviews of the customer and then make a final call.
5. Weight Capacity
Every chair has a weight capacity. This is revealed in the product features as well. Take this factor into consideration while you are buying a chair.
Opt for a chair that has maximum weight-bearing capacity. Buying whole doesn't mean compromising on the features, be very specific about grabbing the best deal.
6. Warranty
Every branded product has a certain amount of warranty. When you are planning the buy the best wholesale office chairs you need to keep track of the warranty offered by various brands.
Look out for wholesalers that provide warranty on the chairs, or assurance on various parts of the office chairs, like fabric, cushions, adjusting knobs, etc. Warranty means assurance.
7. Special deals and discounts
Various dealers come up with deals and discounts once or twice a year or maybe on festivals. You need to have an eagle's eye on the festive discounts and timely deals.
Grabbing the deals can get you the best range of products at the most affordable prices. This is how you can grab office chairs at the best wholesale prices without compromising the quality of the product.
Plan your launch efficiently; expenditure on office furniture is basically your investment as this is what contributes towards the productivity of the employees. However, you need to be smart when you shop, and getting the furniture at wholesale prices is a trick you need to learn.
Conclusion
The above-mentioned factors are a few ways that would definitely let you land up to some of the best office chairs at reasonable prices. Buying at the wholesale price would fetch you great quality products under your budget.
It is always advisable to compare the prices with online dealers as well, as there are great deals popping up each day online. Don't forget to grab your best catch online.
How do I choose a chair?
There are various factors that need to be considered while choosing a chair like Comfort, Ergonomic Features, Budget, Weight Capacity, Brand, Material, Design, and Looks.
Why are office chairs so expensive?
Office chairs are expensive for 2 good reasons. The first one is their design and built quality. They are built to give you the most comforting experience while working. They are ergonomically designed to increase your productivity and save you from work fatigue.
The second reason is the materials used in making these comfortable chairs. Top brands use strong materials like Steel to build Frames and top-quality fabric to give it a smooth finish. They also use the best quality cushioning which is sturdy yet comfortable.
Is a good office chair worth it?
Yes, They are worth every penny. On average, an employee in the US spends about 5-6 hours daily on a chair, so the seating experience should be comfortable. Good office chairs are comfortable, and ergonomically designed to help you work for longer periods without getting too tired.
How long do cheap office chairs last?
Good quality or branded Office chair is designed and built to last for 6-10 years on average. A US employee spends around 30-40 hours every week on an office chair. So chairs go through heavy wear and tear in their life span.
What's a good price for an office chair?
The price of an office chair starts from as low as 25$ and can go up to 15000$. However, the price for a good office chair is between 80$ to 150$. In this price range, you will get an ergonomic chair with a breathable fabric, swivel back, height adjustment, wide armrest, lumbar support, headrest, and more.