When we look for office chairs we think about ergonomics, comfortability, wider seats, reclining positions, and many other features.
Staples Dexley and Hyken are two office mesh chairs that are ideal for office or home office setups. Both chairs have great functionality but they have their differences also. 
These two chairs are among the most popular ones on the market today, and they both have their pros and cons. To make the decision easier for you, we've provided you with a breakdown of some of the standard features of these products below.
*Some links in this post are Affiliate Links and We may Earn a Small Commission If You Purchase.
Let's look at the comparison of Staples Dexley vs Hyken office chairs.
Staples Dexley Vs Hyken Mesh Office Chairs
| | | |
| --- | --- | --- |
| Feature or Benefit | Staples Hyken | Staples Dexley |
| Ideal for | Small to average size People, Shorter than 5 feet 10 inches | Taller and Bigger People, Above 5 feet 10 inches |
| Recliner | Reclines up to 140 degrees | It also reclines up to 140 degrees |
| Recliner Lock-in | Its reclined back can be locked in that position | No reclined lock-in feature is available |
| Lumbar Support | Yes but for shorter people | Yes and fits people of all sizes |
| Seat Dimensions | 27.1 Inches Depth and 27.2 Inches Width | 28.2 Inches Depth and 28.6 Inches Width |
| Chair Height | 49.7 Inches  | 50.8 inches |
| Armrests | Narrow armrests | Wider Armrests |
| Armrest Adjustment | Rigid and difficult to adjust while seating | Softer armrests and easier to adjust |
| Legroom | Narrow legroom | More legroom |
| Wheels or Casters | Little cheap wheels | Bigger and better wheels |
| Levers | 2 levers for lock-in and going up and down | 1 lever to go up and down and reclining |
| Mesh | Mesh all around the seat | Mesh is stitched to plastic at the ends |
| Seat Padding | Foam padding underneath mesh seats | Foam padding underneath mesh seats |
| Color | Charcoal Gray, Black, and Maroon | Only Black |
| Headrest | Only Tilts | Goes up and down and tilts |
| Weight Load Capacity | 275 Pounds | 275 pounds |
Staples Dexley vs Hyken
Materials: 
Though both the chairs are made from mesh fabric still Dexley chair has mesh stitched to plastic at the side edges, unlike Hyken where the mesh is all around the seat.
The mesh seat has foam padding underneath for both chairs.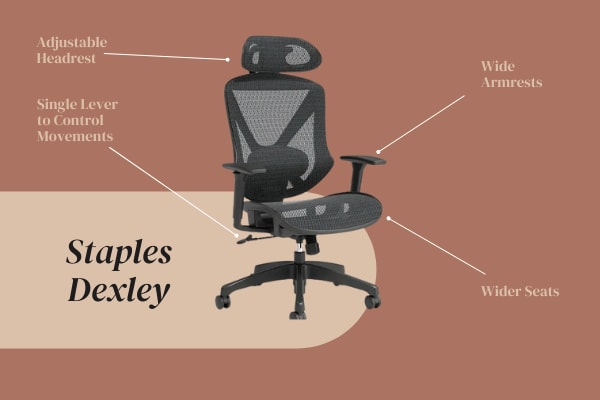 Who can Use: 
Hyken is ideal for shorter and average size people that are less than 5 feet 10 inches otherwise you will feel a shortage of legroom, seat space, the headrest is touching your neck instead of your head, and much more.
Dexley is built for taller and bigger people who are above 5 foot 11 inches or 6 feet. You will see a lot of legroom, seat space, and armrests.
Armrests: 
Hyken has narrow armrests that can be adjusted vertically but not with ease. Its padding is more rigid.
Dexley's armrests are quite wide and fit bulky people. Some people like to seat with legs crossed and Dexley gives enough room to stretch out. It has softer armrests and can be adjusted easily while seating.
Levers and Functions:
Hyken has got two levers to adjust the chair's height and another one to recline and lock in the chair's reclined position.
Dexley has only got one lever to adjust the chair height and recline the chair. It doesn't have a recliner lock-in feature.
Chair Dimension:
The maximum height of the Hyken chair is 49.7 inches while the dexley is 50.8 inches tall. The seat width and depth of the Hyken chair are 27.1 inches and 27.2 inches respectively. 
The seat width of the Dexley chair is 28.2 inches and 28.6 inches respectively.
Chair Casters:
The Dexley chair's casters are bigger and better than the Hyken chair. Both are suitable for carpets and hard floors.
Headrests:
Dexley has better headrests that go up and down and also tilt forwards and backward but Hyken chair's headrest only tilts.
Color Options:
Hyken is available in 3 color options Black, Charcoal Gray, and Maroon whereas Dexley is only available in Black color.
Conclusion:
Both chairs have their strengths and weaknesses and are built for different uses. The Dexley chair is a chair that is worth the price for taller and bulkier people while Hyken is fit for shorter or average people. 
The mesh back and foam seat help to keep your back cool and comfortable while you work. Both are great chairs for any office setting.