Recliners are great for relaxing and they help to unwind after a busy day in the office. Everybody loves a good recliner and if you are looking to buy a new recliner then this post is just for you.
People feel uncomfortable while using the recliners from the beginning either they were not easy to operate or not properly fit. Some people find recliners good in the beginning and later find their padding wearing off, developing back and neck pain after using the recliners.
So if you are one of the above or want to avoid such an experience then you should know how to choose the right recliner for your home.
Here we have explained a buying guide for all those homemakers who want to buy a new recliner for their home or office.
Health Benefits of Recliner Chair
Recliner chairs are very popular as they give relaxation. Here are some great Health Benefits of Recliner Chairs:
Improved Blood Circulation: In Our Body, its gentle movements like gliding, reclining helps our body to circulate more blood
Relief from Back Pain: A fully reclined back will help you relax your back against the chair thus helping relieve the stress on your back.
Improved Nervous System: Recliners help in relaxation, decrease stress, body pain, and more blood circulation which results in a better nervous system.
Improved Digestion: A happy mood releases endorphins which help improve our digestive system.
Factors to Consider While Choosing the Right Recliner
Though looks and features matter in a recliner chair there are other important features and which should be given top priority while buying a recliner chair.
1. Proper Fit –
A good quality recliner chair will have the proper seat fit and back fit. The seat fit should have the proper depth ad width according to the person who will be using the chair.
Seat Fit
Seat on the recliner and check the depth of the seat, if your feet are not touching the ground or barely touching the ground then the seat depth is too much you need a smaller seat. If there is a gap between your leg and seat then the depth of the seat is small and you need a seat with more depth.
Also, check the width of the seat, it should hold you well and easily. People buy oversize recliner chairs and they have to stretch too much to pull levers or adjust buttons.
Don't do that mistake buy a recliner where the seat width is not too narrow or wide so that you can reach the sides of the chair without much difficulty.
A good quality Recliner chair supports your body weight and size as well.
Back Fit:
This is another important feature of a recliner chair. An oversize or too small recliner can hurt your back and create body aches.
A proper recliner will make you feel comfortable in all positions. Your back, leg, neck, and head must lie in a neutral position. It should support all parts naturally.
Some recliners do not have full back height support which leads to back and neck pain. If the soft padding is missing then the person relaxing will have a hard time relaxing.
The padding breaks down after few years of use and when the foam padding in the back compresses the back support is no longer in the right position. It creates a gap between the back and chair which leads to back stress and pain.
When the seat padding compresses the seat height is also lowered and the back height is no longer the same and it creates pressure on the neck and leads to neck pain.
The solution to this problem is to have the recliner chair reupholstered or repaired by a professional.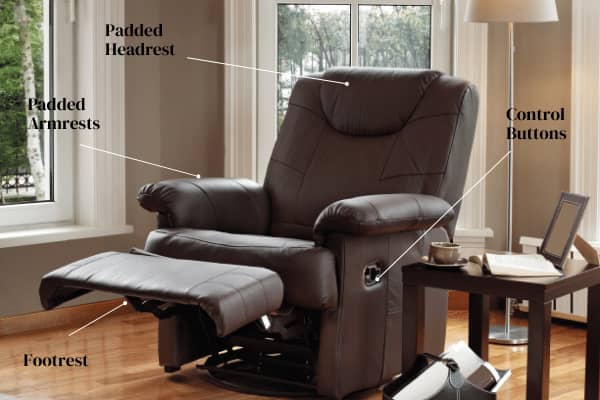 2. Height of the seat:
The height of the recliner chair should be perfect it should not be too tall or too short. It will take effort to lift yourself from a chair that is too short. It will put extra stress on your body.
A taller chair will not be fit for your back and neck support.
3. Type of Recliner:
There are 2 types of Recliner chair available in the market ie. manual and Motorised or Electric.
The manual recliner will have push buttons or a cable release mechanism to slide the footrest up and recline back at the same time.
Electric recliners will have motors attached to maneuver the footrest and reclining positions. You can control them with the help of buttons.
The downside of Manual recliners is that you need arm strength to pull the lever or handle to use the reclining functions. You also need foot strength to close the footrest because you have to slide in the footrest while seating.
So if you are a weak or old person then electric chairs would be a better option.
The downside of electric recliners is that they are expensive. They have cables and cords which need to be managed while cleaning and using the chair. They have more components like motors, lift mechanism, electric features, so it has more chances of failing from time to time.
4. Style and Look:
The material of the recliner should be breathable like a leather one. You can also select which color will suit the decor of your home.
A leather recliner is better-suited for handling mixture and sweat. A mix of leather or faux leather will not be durable and they are not breathable.
A quality or budget recliner will have a seat and armrests are made of pure leather and back, headrest, and other parts made from faux or leatherette. This will be an ideal combination.
5. Warranty and Spare Parts:
Recliner chairs are durable chairs with an average life span of 8-10 years. But they require maintenance from time to time. A good warranty coverage helps you use the recliner for a longer period.
A chair that is covered by a direct manufacturer's warranty is a great addition as the missing or faulty parts can be changed without worrying about any middlemen.
6. Reclining Mechanism:
This depends if the chair is manual or electric. An electric chair is easier to operate than a manual chair where you need strength to pull the lever.
7. Some other Features:
These are the features that make a Recliner multi-tasking and easy to use.
Rocking and Gliding Functions
USB Charging Options
Laptop Charging Point
Laptop Holder
Zero Gravity Feature
Adjustable Headrest
Locking Footrests
Rocking Positions
Footrest positions
Lower Back Support
Storage Space
Reading Light
Bottom Line
These are the factors that you should consider while selecting a recliner chair for yourself. There are many reputed manufacturers like Lazyboy and Ashley who create wonderful recliners. They are strong, comfortable, and durable.