A rocking chair is a chair with an arc attached to the bottom part of the legs that are curved so that the chair can rock back and forth on them.
Rocking chairs have been around for centuries and are a popular furniture choice for many people. They are known for their soothing and relaxing effects, and they can be a great addition to any home.
But do you know when was the rocking chair invented? If you are curious to know the history and evolution of rocking chairs then this post is just right for you.
Design of Rocking Chair
A rocking chair is a chair with two curved pieces of wood attached to the base or legs of the chair at either side. It is designed so that the chair can rock back and forth on the ground when you sit on it.
The rocking chair provides various health benefits to adults, babies, pregnant women, and the elderly. They help relieve back pain, stress, and anxiety, improve blood circulation, treat ADHD in kids, and help patients with Dementia, and Alzheimer's.
The design of rocking chairs as described by the leading dictionary are as follows,
Rocking Chair According to Cambridge Dictionary: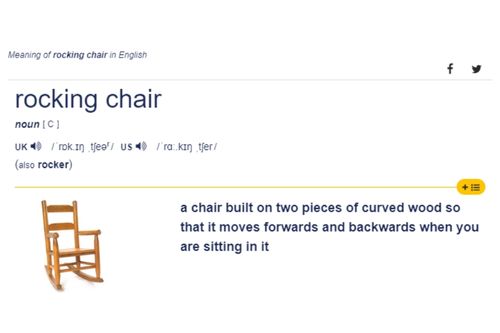 Rocking Chair As Described By Dictionary.com: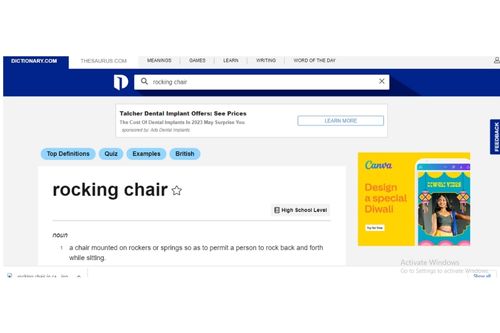 Rocking chairs are available in a variety of styles, and they can be made from a variety of materials, including wood, metal, and plastic. 
They can also be upholstered in a variety of fabrics, and they come in many different colors. Rocking chairs can be used outdoors in the garden, patio, park, deck, or balcony and indoors in the living room, dining room, reading room, or library.
No matter where you plan to use your rocking chair, it is important to choose a design that is comfortable and stylish.
History of Rocking Chair
Rocking chairs were known to be used in the early part of the 18th century in 1725 when they first appeared in England. These initial rocking chairs were made from Wicker and were known as Wicker chairs. 
Some historians also credit Benjamin Franklin, the American Inventor as the creator of the Rocking chair. Though there is no concrete evidence for establishing the fact whether he was the inventor of rocking chairs.
Merriam-Webster free dictionary states that the first known rocking chairs were created in 1766 (in the 18th century).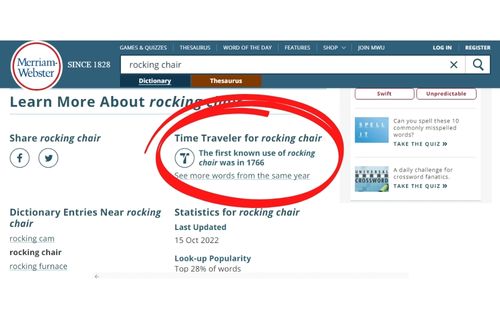 After the rocking chair was invented and it quickly became a popular item in homes and public spaces.
The first record of a rocking chair was made in 1851 when American Inventor Peter Cooper displayed a rocking chair at the famous exhibition at The Crystal Palace in Hyde Park, London.
The rocking chair was originally made by Peter Cooper in 1830 and it was made of steel. 
Here is a glimpse of the rocking chair designed by Peter Cooper and which was displayed in the grand exhibition in 1851.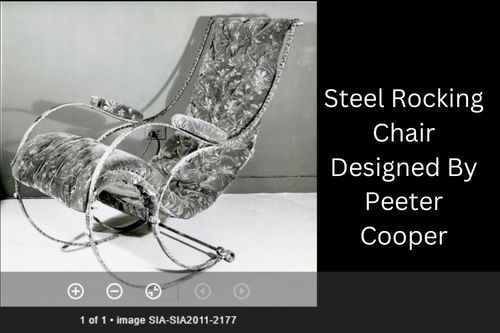 After Cooper German-Austrian Inventor and cabinet maker, Michael Thonet made a new type of rocking chair called the Bentoowd Rocking chair in 1860. This type of chair was made by bending the wet wood and letting it dry to take different shapes and curves.
He was the pioneer in bending wood and using them for the mass production of furniture. The bending of the wood process was soon called Bentwood and the Bentwood rocker name came from that.
The Origin & Evolution Of Rocking Chair- Timeline
15th Century
1400-1500: The invention of cradles from hollow logs for babies to help them sleep through a to and fro motion.

16th Century
1500: The Word "Rocker" was introduced and given to persons responsible for rocking the cradles
17th Century
1625- one of the first illustrations of the rocking motion can be found in an ancient symbol in alchemy:" The Rebis" is standing on a half-moon.

18th Century
1700- The Appearance Victorian Rocking Horse in 1700 was the second symbol of the origin of the rocking motion.

1710- When Yorkshire chairs were converted into rocking chairs by attaching curved blades to the bottom of the legs.
1725- First rocking chairs made from Wicker were seen in England.
1740- Introduction of Swedish Rocking Chair also known as Gungstols (A 6-legged Rocking Chair).

1740- The Bow Spindle Windsor Rocking Chair was introduced as a garden and lawn chair.

1750- American Windsor Rocking Chair built in Philadelphia became popular as Windson Rockers worldwide.
19th Century
1800- The Bird Cage Windsor Rocker featured without the Armrests.
1820- The invention of the Shaker Rocking Chair by a religious sect in North Carolina originally from Britain. The rocker had a ladder-style back with a woven seat from leather, cane, or wool.

1825- Appearance of Rustic Rocker in Canada, a simple design with a straight back and 3 slants.
1830- American Inventor Peter Cooper invented the Steel Rocking Chair
1840- The Invention of Boston Rocker in New England. It featured a high back with spindles and it was the first to be mass-produced by machines.

1840- The introduction of Salem Rocker in New England, was a variation of the Boston rocker with a lower back height.
1850- Heywood Brothers and Company popularised the Wicker Rocking Chairs.
1855- Wakefield company made rocking chairs with the American flag Motif from Rattan.
1850-1860- Adirondack rocking chairs were introduced and these chairs were made from tree parts and wood.

1860- Bentwood Rocking Chair By Micheal Thonet, He experimented with wood bending and used it to manufacture furniture. The bentwood rocking chair was his prized invention. He patented the bentwood in 1856.

1870-80- Bentwood Rocking Chair by J& J Kohn Company from Czechoslovakia. Upon the expiry of Thornet's patent in 1869 Jacob and Josef Kohn Imitated the Bentwood chair and made many variations of it.
1880-1890- Revival Adaptation Rocking Chairs From Classic and Ancient Designs
20th Century
1900- Gustav Stickley's Wooden Rocking Chair made from Heavy Oak Wood. It came with a Leather cushion seat and back cushion.

1904- Art Nouveau Rocking Chair by Henry Van De Velde, a Belgian Interior Designer. It was made of wood and polished to give it a shiny look.
1922- The Egg Rocking Chair, conceptualized by Italian Designer Antonio Volpe. Inspired by the Bentwood chair, Volpe attached an egg shape wooden piece to the chair which worked as an armrest and also helped in rocking.
1922- Lloyd Loom Rocking Chairs, Marshal Burns Lloyd was an American Inventor who introduced the Lloyd looms rocker in 1922. He used paper fiber weaving sheets and attached them to frames with nails.
1925- Introduction of foldable rocking chairs. As rocking chairs became more popular in Europe and America, people wanted portable chairs that can be carried around. So foldable rocking chairs were introduced.
1928- "Model B306 By Le Corbusier". In 1928 Le Corbusier a french Inventor and interior designer in collaboration with Pierre Jeanneret and Charlotte Perriand made the B306 model Rocking chair. By some Le Corbusier is considered the father of modern-day furniture and interior design.
1930- Joubert Et Petit's Metal Rocking Chair, A French designer who used metal with Quilt fabric upholstery.
1944- Rocking Chair by Hans J. Wegner. This rocking chair was designed by Hans J. Wegner, a Danish designer. Thai rocking chair has a featured beech frame and a cane seat.
1950- Rocking Chair By Sam Maloof. An American furniture maker and wood maker designed an elegant rocking chair with a leather seat cushion and high back.
1950- Rocking Chair by Charles and Ray Eames. The couple was American Industrial designers known for their furniture and interior designs. They worked with plywood, wired mesh, and aluminum to make rocker chairs.

1951- A Rocker by Ralph Rapson. He was an American Architect and designer who invented the Rapid Rocker. It was made of a maple plywood frame with an undivided cushioned back and seat. The cantilever arms were the iconic feature of the rocker. The product was mass-produced by Knoll Chair company in the 1950' before being reissued by Rapson-Inc.

1966- Single Rocking Chair by Richard Schultz. He is an American designer who experimented with steel and aluminum. The rocking chair had an aluminum frame welded with stainless steel joints and fittings. The back and seat have a polyester mesh fabric contoured with Teflon thread.

Knoll furniture company still manufactures these rocking chairs.
1971- Jean-Michel Sanejouand Rocking Chair. He was a french artist, sculptor, and designer. His rocking chair was designed of stainless steel with a single seat and back cushion. This rocking chair is currently manufactured in pairs by Demisch Danant.

1971- Ulrich Bohme Designed ocking Chair. He was a german organist who designed a metal rocking chair. The arms, legs, and rocking arc were made from a single metal piece that made a cantilever design. The high back and seat had a padded cushion attached to the main frame. This Ulrich Bohme designed rocking chair is available at 1st Dibs.

The chair was manufactured by a German manufacturer, Thonet Frankenberg.
1972- "Easy Edges" Rocking Chair by Frank O Gehry. He was an American architect and designer who made the easy edges rocking chair. It was made from a single piece of laminated cardboard molded into different edges and shapes to give it a rocker design. It was manufactured by Knoll Furniture company.

1976- Dondolo Rocking Chair by Luigi Crassevig. An Italian designer created the unique Dondolo rocking chair from wood, with a woven back and seat fit to the frame.  Check the rocking chair on Crassevig.

1982- Pearlwood Rocking Chair by Carlos Riart. He was a Spanish furniture designer and designed this Pearlwood rocker for the 50th Anniversary of Van der Rohe's Barcelona Pavillion in 1982. It was a pure exhibition of art, craftsmanship, and originality.
1984- Caterpillar Rocking chair by Jeremy Broun. He was a British Furniture designer and maker. His caterpillar rocker in 1984 was considered a true art of a visually appealing, combination of vibrant colors and marvelous structure.

1984- Equa 1 Plastic Rocking Chair. Bill Stumpf and Don Chadwick leading furniture designer collaborated to make the Equa 1 Flexing plastic rocker. It had metal frames and legs. The arms were made from high-grade plastic material.
1990- Rolling Volume, Loop and Soft Heart by Ron Arad. He was an Israeli industrial designer and architect. He conceptualized some of the most unique chairs and sofas of his time. These contemporary rocking chairs were made from stainless steel with a mirror finish. This rocking chair is still manufactured by 1st Dibs.

1991- Bird Rocker by Tom Dixon. He was a British Industrial engineer who is an expert in designing furniture, lighting, and other accessories. He designed the Bird Rocker for the Cappellini company in Italy. Available on Tom Dixon's Official website.

1991- Rocking Chaise Lounge by Torben Orskov. He was a danish designer who made many innovative furniture and accessories designs. His famous Chaise rocker was extra long that can take on the full body as someone can sleep on it. It had a raised head pillow for supporting the head. The chair was made from stainless steel with a cushioned seat.
1996- Monsieur x Rocking Chair By Philippe Starck. He was a french architect and designer who designed many household items, furniture, and accessories. His wooden rocking chair has this unique wooden "X" cross on the front and back sides. He also designed the Heritage rocking chair.

1996- Chip Lounger Rocking Chair By IIka Terho And Teppo Asikainen. It was the modern version of a rocking chair. The design was inspired by a surfboard and can be used in different seating positions. Check the chair on 1st Dibs.

1999- Gravity Balance Rocking Chair by Peter Opsvik. He was a Norwegian industrial designer who made many great furniture designs. He was popular for his ergonomic designs. He designed the famous Gravity Balance ergonomic rocking chair that promotes active seating as well as relaxation. You can relax and seat in four different positions.

21st Century
2000- Swing Rocking Chair by Denis Santachiara. He was an Italian designer who always experimented with technology, and art to design new products. His Swing rocking chair was a display of art.

2001- Malibu Rocking Chairs. Currently owned and manufactured by Christopher Knight Company.
2008- Body raft Design rocker By David Trubridge. He was a furniture designer from New Zealand who studied Naval Architecture at Newcastle University in England. His body Raft rocker design was based on a boat. This design introduced him to the international arcade and the design was bought by the Italian Company Cappellini.
How the rocking Chair became Popular?
Though rocking chairs were first used in the 18th century but got popular in the 20th century after an incident. The incident has two main characters, Dr. Janet Travell, An American Physician, medical researcher, and American President John F. Kennedy. 
Dr. Travell while traveling through North Carolina came across the rocking chair, known as Carolina Chair, originally manufactured by the P& P Chair Company.
She tested the chair and was so impressed by the design and comfort while seating and rocking that she ordered a few pieces for her home and clinic.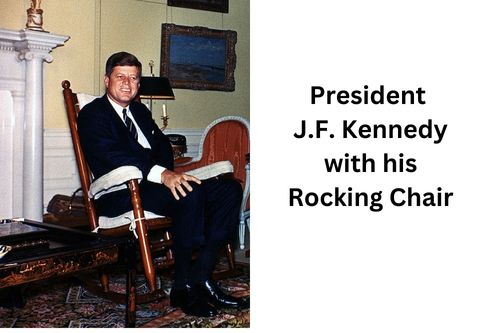 It was 1955 when President Kennedy who was back then in the Senate often visit Dr. Travell'c clinic and residence for the treatment of his chronic back pain.
He accidentally sat on the rocking chair bought by Dr. Travell. Kennedy felt relaxed and had little to no pain while seating on the rocking chair. He was so impressed by the chair that he offered to buy the chair for himself.
Dr. Travel however gave the P& P Chair company's details to Senate Kennedy for ordering a new rocking chair.
When Kennedy became president he ordered many Carolina Rocking chairs from the company for each room and even camp David and Air Force One.
As the word traveled P& P Chair company used to have 400-500 calls a day. The public started ordering the chair and thus the rocking chair's popularity rose over time. Since then Carolina Rocker is also known as Kennedy Rocker.
Later P& P Chair Company was bought by Troutman Chair Co. in 2008. Since then this company is manufacturing the famous Carolina Rocker or rocking chair.
Conclusion
The concept of rocking is very old and dates back to the early part of the 15th century when rockers were used to help children sleep.
The known use of rocking chairs was seen first in the early 18th century. It was a popular chair in the United States in the 19th century and is still in use today. The rocking chair is a versatile piece of furniture that can be used in a variety of settings.
That is all we got in this post about when was the rocking chair invented. If you want to contribute please comment below.