Seating for long 8 hours straight in the office or working from home can put a lot of pressure on your back, shoulders, and neck, or you can say the entire body is too stressed. An ergonomic chair greatly helps in reducing the stress put on your back, shoulders, or neck.
If you are planning to buy an ergonomic chair and claim it from your HSA account but are wondering if can you use HSA for an office chair?
You are in the perfect place, in this post we will tell you,
Can use HSA to buy a chair?
What are the conditions to buy it?
What are the Documents required to claim the reimbursement?
But before that, we must understand what is HSA and what kind of products are allowed to buy under this plan.
What Is HSA?
According to Healthcare.gov, a Health Savings Account (HSA) is a pre-tax savings account used to pay for qualified medical expenses. An HSA is available to those who are enrolled in a high-deductible health plan (HDHP). An HSA must be used in conjunction with an HDHP in order to be eligible for the HSA tax deduction.
In layman's terms, Since you bear a higher amount of out-of-pocket expense because of this plan, the HSA account is permitted so you save some tax-free money in this plan to pay for medical expenses like deductions, copays, coinsurance, and other medical supplies and equipment.
There are limitations to the amount you can contribute each month. According to IRS publication No-969, the Limit for an individual in 2022 is $3650, and $7300 for the family.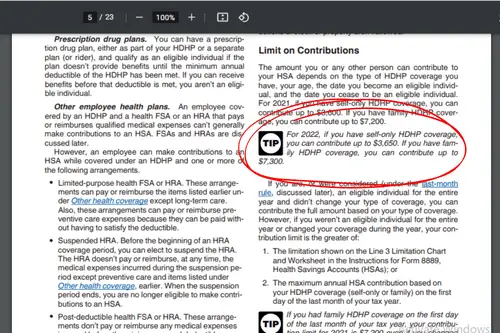 Here is a screenshot of the document to prove the above fact about the monthly contributions limit.
What Can You Buy with Your HSA?
You can use the money in your Health saving Account for medical care and expenses, like buying medicines or equipment required for preventing diseases.
There are a lot of things you can buy by using your HSA money. We can categorize the products into two parts, First, the things that don't require a prescription, and Second, the product that requires a valid prescription.
HSA is not limited to buying medicines. You can use your HSA account not only for medication but also for items that help improve your Health. 
Products that you can buy with the HSA are,
Medicines (Pain delivers, Cold & Sinus, Vitamins & Supplements)
First Aid Kit
Eye Care (Pair Of Glasses)
Baby Care Products (Diapers, feeding bottles)
Training Pads
Mobility & Daily Living Aids ( Wheelchairs, Walkers, Mobility Aid Accessories, Mobility Scooters, Canes, Crutches, Braces, Splints)
Pain Relief Products (Heating Pads, Children's Medicine, Headache Medicine, Fever Medicine, Hot and Cold Therapy, TENS Units, Pain relief patches)
Oral Care
Braces, Splints & Supports
Disposable Face Coverings
Health Monitors
Home Tests
Medical Compression Garments
Humidifiers
vaporizers
Thermometers
Massagers
Shower Chair
Cervical Seating Pads
Occupational & Physical Therapy Aids
So the list is long and you can buy all these products with your HSA money but some with valid prescriptions and some don't require a prescription.
If you are worried about the eligibility of any of these products then you can visit any of the top retailers like Amazon, Walmart, or Target that have special categories for products that are HSA eligible.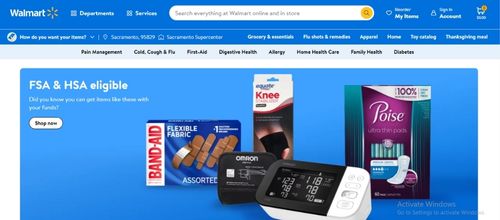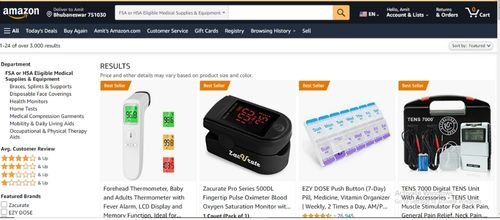 Now coming to our main topic whether you can buy a chair using your HSA money or not.
Can You Use HSA For An Office Chair?
The answer is YES, you can buy a chair using your HSA but there are two requirements for it.
It has to be a specialized or Ergonomic Chair
You need a Letter of Medical Necessity from a Medical Practitioner
You can buy an office chair by using your HSA account. But remember, the office chair needs to be ergonomic. Moreover, you need to have a letter of medical necessity if you want to use your HSA while buying your ergonomic office chair.
Ergonomic chairs help support your back while working long hours in front of the computer. They help reduce back pain, correct posture, and injury, and treat certain abnormalities arising out of sitting for long hours.
So you can use HSA to buy an office chair. But, you must have a medical necessity letter stating why you require an office chair and how it is going help improve your condition.
The best explanation of this can be found on the site of HSA Store.com. which is the biggest site that sells HSA and FSA-eligible products. It clearly indicates that you need an LMN(Letter of Medical Necessity) to be eligible for an ergonomic or specialized chair.
Here is the screenshot on their site which indicates the same,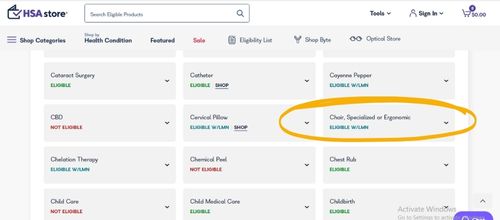 How Can You Use HSA For Your Office Chair?
You must keep a few things in mind before using HSA to buy office chairs.
First, you need to contact your provider to know the rules associated with buying an office chair.
Remember you must pay first from your pocket when buying an office chair.
Always keep the original invoice/receipt for reimbursement.
Prefer to buy an office chair that HSA approves. So, after you purchase your office chair, you can file for reimbursement.
Additionally, you must have a letter of medical necessity to get reimbursement.
Letter of Medical Necessity
A letter of medical necessity is a letter in which your doctor states why an office chair (Ergonomic) is required. It must cover how it is necessary for the treatment of a medical condition and how this product will help alleviate the issue and the duration of the treatment.
The letter will cover the following things
Information about the patient
Name and date of the birth of the patient
Policy number
Name of the Insurance policyholder
Name of the doctor
Contact information of the doctor
The license number of the doctor
Date of the last examination performed by the doctor
Area in which the doctor specializes
The doctor should include the patient's diagnosis on a medical term and why you require an office chair
Length of the treatment. The letter should include the starting and ending date of the treatment you have taken.
Medical history is interconnected with diagnosis.
Will It Be Right To Use My HSA While Buying An Office Chair?
Yes, why not? Backaches can be really painful and most of us seat while at work. So it is justified to use an ergonomic chair and if your doctor is asking you to use one then you must do.
If you have sufficient money in your Health Savings Account, then you can use your HSA to buy an ergonomic office chair.
But, if you don't have much money in your HSA and want to save it for urgent medical care, we will advise you not to use your HSA to buy an office chair.
Conclusion
Fortunately, you can get an office chair by using your Health Saving Account. But you need to contact your healthcare provider whether they allow such reimbursements. If they do then buy the chair and file for your reimbursement with all the documents like the receipt, and the letter of medical necessity.