A rocking chair is a great addition to any home. They are comfortable and can add a touch of elegance to any room. But before you buy a rocking chair, you need to make sure you have enough space for it.
So, how much space does a rocking chair need, let's try to find out in this article. We will cover the space required for different shapes and sizes of rocking chairs.
Rocking chairs come in different shapes and sizes. Some of the popular rocking chairs are wooden ones. Apart from wood, rocking chairs also come in metal and plastic materials. The rocking chairs are available in different measurements like height, width, and seat depth.
Dimensions of A Rocking Chair
You will find different styles, designs, and shapes of rocking chairs.
Different materials are used to make rocking chairs like wood, steel, Alloy Steel, Aluminum, and Bronze. Engineered Wood, Iron, Metal, Nylon, Plastic, Polycarbonate, Polypropylene, Polyvinyl Chloride, Stainless Steel, and Wrought Iron.
Though the materials are different the parts of a rocking chair are almost the same.
The dimension of rocking chair has three main parts seat depth, chair depth, chair height, 
Legs:
Like any other chair, every rocker has 4 legs but they are attached to an arc at the bottom. The average height of rocking chair legs is 12". Some bigger chairs have higher legs up to 15". 
Chair Back:
The back height of the rocking chair is measured from the bottom to the tip of the seat. The average back height of a normal rocking chair is 32"-40" tall. Some higher back chairs have taller back heights.
Seat:
The average seat width of a normal rocking chair is between 24" to 28" and the average seat depth is between the range of 20" and 25".
Armrests:
The average height of the armrests from the ground for a normal rocking chair is 22"-28".
Rocking Arc:
The rocking arc is the longest part of the rocking chair and there are 2 rocking arcs on each chair on both sides. The average length of the rocking arc for a normal chair is 38" to 40".
Space Required for a Rocking Chair
Once you have your rocking chair, you can enjoy the comfort and relaxation it provides. But if you don't have enough space, it can be a tight fit. Make sure you measure the space you have available before you buy a rocking chair.
Rocking chairs come in all shapes and sizes, so it's important to measure the available space. You need to allow for at least two feet of space behind & front of the chair and one foot on either side. If you have limited space, there are some smaller rocking chairs available.
Chair Width Space
We compared over 50 different rocking chairs of varying seat widths and found out that the minimum width of a rocking chair is 19 inches and the maximum width is 56 inches.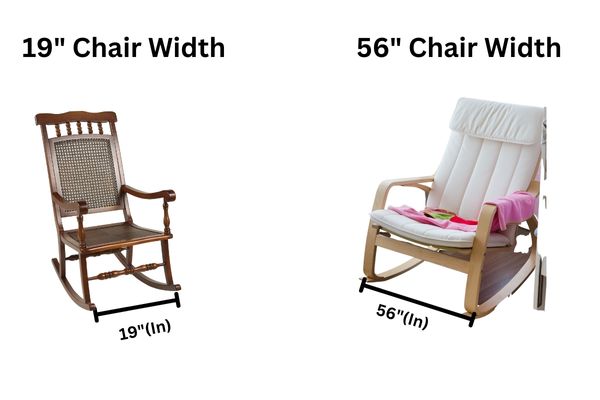 2 Ft Minimum – 19 Inches or 1. Feet 7 inches
5 Ft Maximum – 56 Inches or 4 Feet 8 Inches
So if want to place a rocking chair with minimum width then you need at least 2 feet area and a space of at least 5 feet for the widest type of rocking chair.
Chair Depth
We analyzed over 30 different brands of rocking chairs based on their various chair depths and found out that the minimum chair depth available is around 20 inches and the maximum is 79 inches.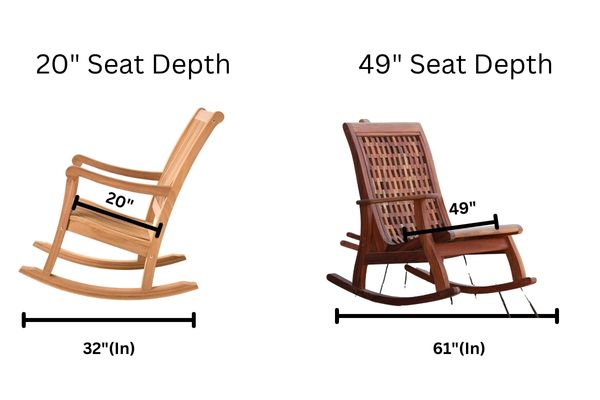 32″ (Inches) Minimum – 20 Inches or 1. Feet 8 inches
91″ (Inches) Maximum – 79 Inches or 6 Feet 7 Inches
If you consider the rocking arc at the front and the back to be 6" each then the minimum chair length would be 32" and the maximum would be 91".
Conclusion
A rocking chair needs approximately two feet of space around it in order to rock properly. Other factors such as the type of flooring and the size of the person using the chair can also affect how much space is needed.