Rocking chairs have been around for centuries and are a popular choice for many people looking for comfortable chairs. A rocking chair is not only comfortable but also good for health. However, with so many different kinds of rocking chairs on the market, it can be difficult to know which one is right for you. 
In this blog post, we will go over all the factors that need to be considered when buying a rocking chair. We will discuss the different materials that rocking chairs are made from, as well as the different styles of rocking chairs. 
We will also talk about the importance of comfort when choosing a rocking chair. By the end of this blog post, you will know everything you need to know about choosing the perfect rocking chair for your home.
Factors To Consider While Buying a Rocking Chair
Rocking chairs are available in a lot of varieties and types based on usage and design. When buying a rocking chair it is essential that you take all factors into account, so that you make an informed decision.
Here are a few factors that are important and critical when buying a rocking chair.
Design
Usage
Materials
Comfort
Durability
Weight Capacity
Ergonomics
Maintenance
Sturdiness
Warranty
Design:
The design of the rocking chair is very important. How does the chair rock, does it rock gently, and does it make any noise while rocking? You have to ask yourself these questions when you look at the design of the rocking chair.
Rocking: 
The arc below the chair plays a vital role in the rocking sequence. The right arc would be at a perfect angle to give a gentle rocking experience to and froth. The rocking pace increases with time. 
Armrests:
Apart from the rocking, you can choose a rocking chair with armrests or without them.
A good rocking chair is used for relaxing, sunbathing, and reading. 
High Chair Back:
Some want the back of the chair to be high enough to cover the head so that you can rest your head on the chair.
Foldable:
Some people want their rocker to be foldable so they can carry it around for a picnic, beach, garden, park, and other favorite places.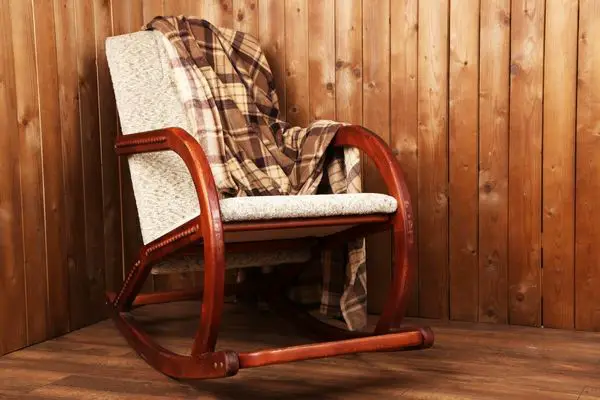 Color Options:
People also look for color options to match their home decor. There are multiple color options available to choose from.
Seat Depth:
Another factor people look for is the seat depth of the rocking chair. The deep[er the seat the more comfortable the rocking experience. Bulky, taller, and bigger people look for seats with higher depths.
Some of the common depth range available in rocking chairs are up to 19 inches, 20-24 inches,  25-19 inches, 30-39 inches, 40-49 inches, 50-59 inches, and 60-79 inches.
Usage:
Indoor/Outdoor:
The usage of the chair must be considered before buying a rocking chair. You can use it indoors in the living room or dining room or outdoors on the patio, deck, garden, beach, park, camping, or anywhere outdoors. This will decide whether you need a weatherproof rocking chair or any elegant wooden rocking chair.
Age Range:
Another important consideration to be made is who will be using this rocking chair, an adult, a kid or a toddler, or a mother.
There are different versions of rocking chairs available for kids and adults. Rocking chairs are also used by nursing mothers to feed their babies because it is so relaxing. For this specific need, nurseries buy and use rocking chairs to feed babies.
Materials:
Rocking chairs come in a variety of materials ranging from wood to metal. The price range depends on the type of material used a plastic rocking chair costs way cheaper than a wooden rocking chair. 
Some of the commonly found materials are steel, alloy steel, aluminum, bronze, Iron, Wood, Mango wood, Nylon, plastic, polycarbonate, polyvinylchloride, polystyrene, stainless steel, and wrought iron.
Wooden Rocking Chairs
A wooden rocking chair looks elegant, quiet, and classic but is expensive. It is durable and lasts for a very long period if maintained properly and used indoors. The only downside of using wooden rocking chairs is that they are not fit for outdoor use. They will decay and fade if exposed to rain and sunlight directly. Though you can weatherproof these rocking chairs by applying oil and other substances.
Metal Rocking Chairs
Metal rocking chairs are cheaper than wooden chairs but they are noisy. The y are also prone to rust if not maintained properly.
Plastic Rocking Chairs
Nowadays Plastic rocking chairs look like wooden chairs. You can find chairs with the same texture and feel as wooden chairs but they are made of plastic materials like polystyrene, polycarbonate, or polypropylene. They are cheap and weatherproof. You can use them virtually anywhere indoors or outdoors without any trouble at all.
Comfort:
All chairs should be comfortable to sit on. A rocking chair that is not comfortable is of no use. A rocking chair with a good design will be pleasant to seat on. Some rocking chairs come with a seat and back cushion for extra comfort while seating. 
Durability:
A wooden rocking chair if maintained properly can last more than 20 years. Companies that manufacture rocking chair claim that their rocking chair will last up to 20 years or more.
Weight Capacity:
The next thing you need to consider is the weight capacity of the rocking chair, If it can bear the weight of the person then it will not last long. Check what is the ideal weight capacity of the rocking chair. 
Ergonomics:
Don't ignore the ergonomics of the rocking chair, it should support the body, arms, and head. If it is not ergonomically designed then using the chair will lead to backache, neck pain and shoulder pain, and body pain.
Maintenance:
Every chair needs maintenance to last long, so the rocking chairs. Choose chairs that require low maintenance.
Rocking chairs made from Plastic or plastic polymers are the ones that require low maintenance. You can use these virtually anywhere and they are weatherproof. They don't fade or get damaged from rain or sunlight.
Cleaning them is easy you just need soapy water and a towel to clean any dust off the chair.
Metal chairs need low to medium levels of maintenance. These metal chairs are prone to rust and they decay with constant exposure to rain and sunlight. They need repainting from time to time to protect themselves from outside exposure.
Wooden rocking chairs require the most maintenance as they are not weatherproof. If they are exposed to sunlight and water they will fade and decay in no time. It is not easy to clean them as you cannot use water to clean them.
They require periodic polishing and termite protection to last longers. Though they are the strongest rocking chairs they depend on regular maintenance.
Sturdiness:
If you compare the metal vs plastic rocking chairs the wooden rocking chairs are the sturdiest ones. They are made from high-quality wood with real joints and they are the heaviest. Metal rocking chairs are sturdy but limited to dents when hit. Plastic is the least sturdy rocking chair. 
Warranty:
Warranty is the protection for buyers against any manufacturing defect, or wrong parts. missing screws, etc. Most retailers offer 10-20 years of warranty on rocking chairs. There are many made-in-USA retailers who offer a lifetime residential warranty on their rocking chairs.