If you are short in height person, or petite in size, you already know the struggle of finding the right chair for yourself. We buy everything according to our size, be it our clothes, our accessories, office tables, and all other things that we use in our daily routine. Then why not chairs, which are meant to be used for most time of the day.
On average, a person spends 6.5 hours daily sitting on a chair, and it definitely needs to be a comfortable one. Finding a comfortable chair isn't a big challenge, but finding the right small office chair for short people could be tricky.
Thus, we are here to help.
Why do short people need a specific chair?
Before we jump on to the factors to consider while finding a chair for short people, we need to understand the difference. We need to initially talk about the fact as to why exactly short people need a specific chair, and what challenges do short people face while sitting on a regular chair.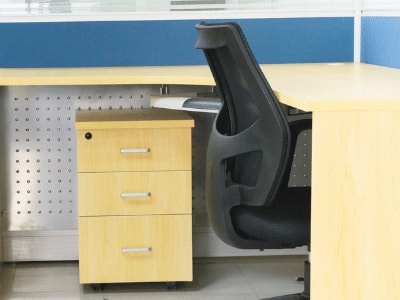 Improper back support– When short people sit on a regular chair, they barely get proper support for their back. They tend to shift towards the edge of the chair which restricts back from getting proper support.
No support to arms– If the arm rests are not adjustable, they fail to provide enough support to people with short height. Hence, adjustable armrest is equally essential.
Hanging legs– People with short height do not get the ease to put down their feet flat on the floor. This results in various issues like swelling of feet, pain in the leg, and stress on the hips. Short people specific chair designs are calculated in a way that allows proper comfort to the body.
Circulation issues– For short and petite people, circulation too becomes an issue if the chair is of a regular size. Moving left to right while sitting in a chair is a normal gesture and also important to reach to various parts of the cubicle. This becomes an issue if a short person uses a regular chair. If the seat depth is larger than required, it creates problems.  
Why do you need the perfect chair?
A chair is a chair, what is the point of demarcating it on the basis of designs or sizes. Are you too of the same viewpoint? If yes, you need to change your perspective.
Office people spend nearly 40 hours a week sitting on their chairs in front of their PC. Multiply it with the average work life of an individual, and you will automatically understand the importance of the right chair.
Here below mentioned are a few details that make the point more clear;
You need just the perfect chair, because you want to be most productive at work hours. Thus, sitting on the right chair increases your productivity.
Sitting on the right chair in the right posture decreases the cost on medical expenses, as you take good care of your body, and you fall less sick.
You avoid all the probable pain conditions while you spend on the right chair. Back pain, shoulder pain, leg pain, stiffness etc are some of the most common disadvantages of choosing the wrong chair.
A well-designed chair is always more comfortable and makes your work experience less tiring.
Factors to consider while buying a Small Office Chair for Short People
Here are the 4 factors which are crucial while buying an Office Chair especially for shorter persons.
1. Seat Height
There's a certain balance you need to strive at while you sit on your PC. The height of your chair should be adjusted at a length that matches your eye level. If your PC is above your eye level, you would immediately start to feel the strain on your neck, shoulders, and also on your hands.
The situation gets even worse for people with short height. Short people often focus on the height of their work desk; however, they need to pay equal attention to their chair, and its adjustability options.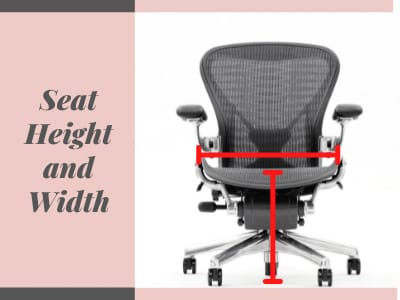 Did you know? Ideally, while sitting on a chair, your legs should be placed at a 90-degree angle, and your feet should touch the ground flat. This is of utmost importance, as otherwise, you might face multiple health disorders that would eventually lower your productivity level.  
Thus, look for a chair, that is easy to adjust in terms of height, should be designed specifically for short-height people, and includes easily operated adjustment options.
2. Seat width
The width of a regular chair is basically designed keeping in mind an average body size. For short and petite people, the seat width should also vary accordingly.
Too deep or too narrow a seat width would ultimately create issues if you wish to rotate while sitting on the chair and hence finding the right chair is important. Thus, consider taking into account the width of the seat while you choose a chair according to your body size.
Recommendation– A seat depth as deep as 18 inches is recommended for short people.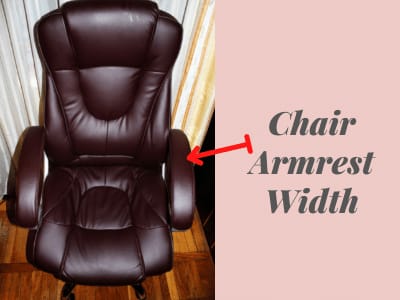 3. Armrest width
An office chair designed specifically for short people should have an adjustable armrest width. The armrest design of the chair should be such that it allows the arm to relax while working. In the otherwise case, acute pain in elbows, upper arms, and stiffness in the shoulders would be the ultimate result.
You also need to be very precise about the posture of your arms while you are working on your PC.
4. Additional accessories
If the chair includes other additional accessories, it would be a great deal for the buyer. These might include footrest, mats, extra cushions, etc.
There are umpteen varieties of small office chairs for short people in the market. Exclusive ergonomic designs at competitive prices are there to fit your requirement. Proper research for the product is important, and once you consider the factors mentioned above, you are surely going to get your hand on the best deal.
We hope you like our guide on how to select a small office chair for short people. Keep exploring this page for more offers, discounts, promotions, information, and reviews on the latest chairs and models.