Bar stools are the focal point in a basement as they do not have many decorative features. There are several benefits of bar stools in the basement, such as they give an aesthetic look to the basement, make the basement a bit more interesting, and, lastly, provide a place to sit in the basement. In this post, we will look at some factors to consider while choosing bar stools for your basement.
With the presence of beautiful and stylish bar stools, the place gets more lively and energetic. There are so many options for bar stools, and it gets really difficult to choose the right bar stools for your basement space. Here in this article, we'll give you a guide to chose the best and the most affordable bar stools for your basement, along with important tips to narrow down your options. 
Why height of bar stools is so crucial?
The question for a perfect height appears when we have to place the bar stool against a certain object. Bar stools are available in different heights, and each height is meant for a specific space.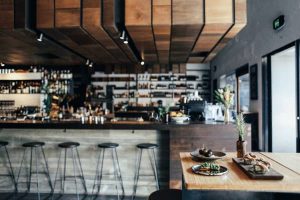 If you want to purchase a bar tool for a restaurant, then its height would be 23-25 inches from the floor.
Similarly, if you want to purchase a bar stool for dining tables, then the height would be 16-20 inches from the floor.
As we want to purchase a bar tool for the basement, therefore we need a shorter bar stool with a height of around 16-20 inches.
Understand the Functioning of Bar Stools
It is important the determine the function of bar stools in your basements before purchasing them. Just imagine how you are going to use them in your basement. This will help you narrow down your options to only a few bar stools types, which you'll need to have in your basement.
This will also help you to understand why you have preferred one bar stools type over another. Whatever the function of bar stools would be in your basement, just make sure that it actually performs that function after the purchase.
Understand the design features
Bar stools broadly have three types of designs: backless, partial back, and full back designs. But apart from the design, the other parts of bar stools are as important as the chair structure.
Number of legs from the base of the tool
Armrests or without arms
A stationary base structure or a swiveling structure
A seat with a narrow base and back or a seat with a wide base and back
Height adjustability or no adjustability option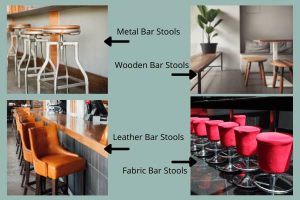 Different Materials used in Bar Stools
Material is always the key to any product. It guarantees comfort, durability, and style to the product. The same goes for bar stools as well. The two most basic materials used in the bar stools are wood and metal.
However, there are so many new material combinations used in the more advanced bar stools, such as the use of synthetic plastic is getting very common. Apart from that, modern bar stools are also customized with brand logos and customized color patterns. All this gives an entirely new feel to the bar stools.
Now, we'll discuss each bar stool type separately.
a. Metal Bar Stools
These are the most basic and common basement bar stools. Metal is durable, stylish, and attractive bar stool material. It comes with leather, fabric, and a plastic seat. The bae will always be made up of metal, including legs and foot stand, whereas the rest of the structure can be made up of different other products mentioned earlier.
Metal bar stools have all three design option, but the most common one is backless and partial-back bar stools. It is also very competitive in price and gives swiveling, and foot stand options as well.
b. Wooden Bar Stools
These are the traditional basement bar stools types. They are mostly available in the backless version; however, they are available in the other options as well. Mostly in the basement-type spaces, the backless type wooden stools are used, but you can choose your option based on the space you have in your basement area and your budget.
c.Metal and Wood Bar Stools
Now comes the combination type bar stools. This type is a combination of wood and metal. They are basically the combination of art and tradition. The base gives a more unique and attractive look, whereas the wood gives the traditional look
d. Leather and Fabric stools
This type is the most modern form of bar stools type which gives the appearance of a modern office chair. They come up with some other office chair features as well, such as gas cylinder and height adjustment options.
What If I have kids in the house
If you have kids in your house, then your options will change. Kids usually like to drag the bar stools and move them from one place to another. For this reason, you might need some heavy bar stools. The design should also be four-legged, high back with arms as well.
Also, the bar stools should have a reasonable height. If it is too tall, then the kids might fall while climbing for the bar stools. Also, footrests should be preferred.
How to make Bar Stools more Comfortable?
Comfort is very important because it does not let you get tired and especially when you have to sit on the bar stools for a longer period of time. The material is again very important to add comfort to the stools.
If it is a full-back or partial-back bar stool, then you should look for tie-on cushions to add more comfort to the bar stools.
Footrests also add comfort and avoid dangling. Therefore, it is always suggested to add footrests not just for the adults but for the kids as well.
To wrap up, If you are still unsure about the design and features your bar stools should have, then you can look for more about each shape and design online and check your preference. We are sure that you'll get your desired bar stools if you really know what you are looking for.