According to a study by the British Psychological Society (bps), a person spends close to five hours and 41 minutes every day on a computer chair. That is close to 30 hours in a week. Thus, selecting a computer chair needs more attention than anything else.
According to the same study done by experts from the Work and Health Research Centre, nearly 70 % of people do not follow the guidelines of physical activity while at work and this leads to health deterioration. Experts suggest extended time at work leads to a decline in mental health as well.
What does the right chair do?
After years of research and development about our work culture, its impact on our body, and the inversely proportional relationship between our work time and our health, we are introduced to ergonomic chairs.
These chairs develop a support system for our body, and that's how we spend comfortable time at work. Here's what a supportive chair does;
It increases our productivity at work.
It maximizes our efficiency and keeps us afresh.
These chairs protect our body from getting stiff from prolonged sitting time.
These chairs let our body stretch properly.
These are designed to prevent back strain, leg swelling, and neck pain issues.
The fabric used lets our body breathes well.
Factors to consider while sitting on a computer chair
There's a right way to do everything, and also there's a calculated way to sit on a computer chair. Selecting an appropriate computer chair is important; however, it is equally important to sit suitably while you work.
Sit on a cushioned chair, and balance your body weight equally on both your hips.
Adjust your back aptly on the chair. Make adjustments until you find a suitable fix for your spine. There should not be any gap between your lower back and the backrest of your chair.
Adjust the armrest in the right position. Your arms should rest in a position where no exertion is transferred to your shoulders. In the otherwise case, your shoulders would start getting stiff and feel painful.
 Your feet should lie flat on the floor. Hanging feet would lead to multiple health disorders like swelling, pain, heaviness. Adjust your seat at a position where your feet shall lie flat on the floor.
Most important, take proper little breaks in between work. Do not sit on the chair for more than 30 minutes at a stretch. A few minute stretching in between work could avoid mental illness, depression, anxiety, pain, and other health disorders.
Selecting the right Computer Chair
The way to good health, better posture, and more productivity lies in choosing the right chair. People do spend more and focus more on finding a durable desk for work, more than that, the focus should be to find the right chair. Spend on a comfortable chair to see a noticeable difference in your results.
Finding the right chair could be a bit tricky, hence we bring to you the most sorted guide on picking up a chair that's best for your body. Take the below mentioned aspects into consideration;
1. Adjustability
Every chair should be adjustable, that is the most common and most important feature you should look out for. However, when we talk about adjustability, we are not talking about the basic height and arm adjustments.
Height and arm adjustment are commonly found in every chair, you should look out for other adjustable features as well.
Some chairs come with 3 to 5 adjusting features, and some other are designed with as many as 14 adjustments. You should lookout for a chair that is crafted including adjustable lumbar support, seatback width and height, arm width and height, seat back angle support, and also tension control.
Further, the adjustments control should be easy to operate. A person should not struggle while changing the chair to different adjustments.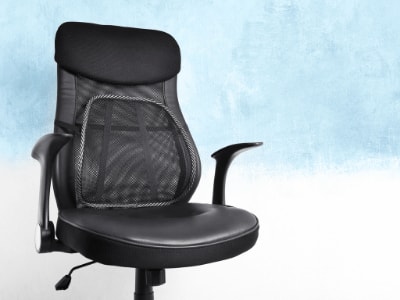 2. Lumbar Support
An intelligently designed chair includes an adjustable lumbar support system, which could be adjusted to let the spine find its perfect space while you sit on the chair. To prevent back strain, bad posture, and continual pain in the spine, providing perfect space to the spine is most important.
Chairs with intelligently designed lumbar support options are the need of time. And while selecting a computer chair spending on the right product happens to be your foremost priority.
3. Fabric
Everything when we sit on a chair for a prolonged period, we sense an uncomfortable heat that irritates us. This is where the role of fabric in chairs needs to be taken into consideration. A well-designed chair should use fabric that's breathable. Good fabrics let your skin breathe, preventing unnecessary production of heat. Besides this, the chair should be properly cushioned to provide balanced support to the hips. Yes, we are talking about computer chairs, and hence we need to look at the factors keeping in mind prolonged sitting.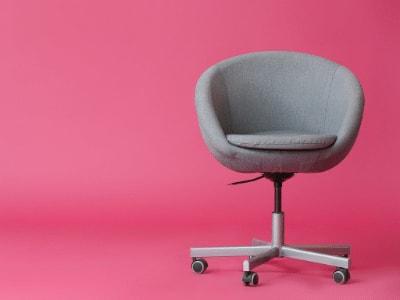 4. Wheelbase
A chair without a wheelbase is near to no use, especially if you are working in your office space. You need to look out for a chair with good wheels that are easily moveable. Some designs include wheels that work well even on carpets, and you need to take this factor into consideration as well.
5. Swivel base
A chair should be designed to rotate and swivel effortlessly. This not only encourages ease at work, but also prevents stiffness in arms, and legs. Look out for a chair that has a comfortable swivel base, to let you reach different areas around your work cubicle.
Conclusion
This guide will surely prove to be your assistance while you struggle in selecting a computer chair. As long as you take the above factors into consideration, you will definitely end up buying the perfect chair. Another simple piece of advice is, if required do spend a little extra on your chair, this expenditure would surely prevent the time and money that you might end up spending on a doctor's clinic.