So is it getting hard to sit on your current office chair now because maybe it is old, badly torn, and isn't as comfortable as it was before?
Sitting on a chair like that is bad for your health as it can damage your spine chords plus it decreases your productivity too.
And now it's time to have a conversation with your boss about it. But the deal is you have no idea what to say and how to say it.
In this article, we have mentioned some effective ways to successfully convince your boss to buy you a new office chair.
8 Compelling Ways to Convince Your Boss to Buy You a New Office Chair
1. Arrange a small meeting with your boss: 
The best way is to ask your boss for their time and tell them that you have something to say.
Asking for a discussion will make them feel that the matter is really important and they will listen to you well. Make sure they are in leisure and good mood. 
2. Figure out what you want to say: 
Before starting the conversation make sure you have already figured out in your mind what to say and how to say so that you don't forget to mention anything important.
If required make a list of the things you want to talk about and remember them in your mind. Figure out what kind of question your boss can ask and already have your answers ready. 
3. Convey a Story: 
The best way to persuade anyone is to tell them a story. It might be a story that the problem you are facing can affect other employees too in the future, which may result in a decrease in the growth rate of the company.  
Talk in the favor of them: You need to understand that your boss is someone who runs the company in order to make a profit.
So you have to keep your points in such a way that you are talking about the benefit of the company only. Make sure to keep the conversation as simple as possible.  
4. Talk About The Effects of Bad Posture: 
Tell them politely and confidently about the issue you are facing such as pain in your wrist or back.
Share with their reports, research, articles, or pictures to show the harmful effects of sitting on an uncomfortable or worn-out chair that causes musculoskeletal disorders such as neck pain, back strain, tendinitis, and epicondylitis. 
5. Talk About The Benefits of a Good Chair:
Share with them the advantages of sitting on a good and comfortable chair, such as it reduces work injuries, improves productivity, and enhances job satisfaction.
Having a perfect office chair that fits your body helps to reduce postural stress on your neck, back, shoulders and wrists. A good chair will keep you less distracted at work and more focused on completing the task.
6. Provide Them Options:
Do not just get into their cabin and tell them, this chair to buy. They are the boss and they are responsible for making the decisions.
You just have to put your opinion and give them choices along with the benefits, so that your Boss will feel that you have genuinely done the research.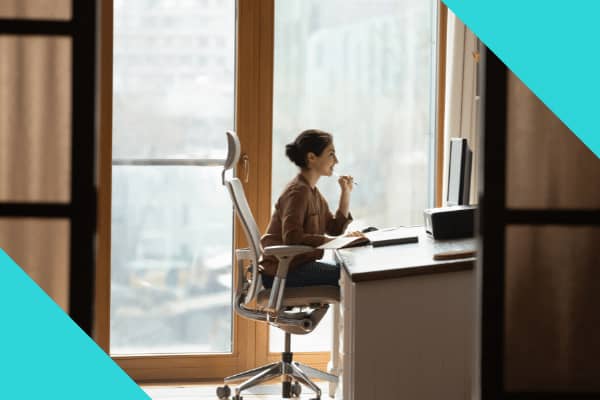 Here are some good quality ergonomic chairs especially for office purposes.
A. SIHOO Office Chair Ergonomic Office Chair
If you are done wasting hours over the internet searching for a perfect Ergonomic chair that can replace your current office chair and provide you more comfort then this one is the real deal.
This is a must-have product for someone who is working around 8-10 hours a day whether in the office or at your home as it provides total comfort to your upper body and one can easily stretch their legs by using the footrest.
The packaging was really good and was delivered in fine condition. It took me some time in installation but the best part is they provide you a pair of gloves that will prevent your hands from the grease while installation.  
Read More Reviews about this Chair Over On Amazon
B. Flash Furniture Mid-Back Black Mesh Swivel Ergonomic Task Office Chair 
With a dimension of 17" by 20" this office chair comes in 20 different colors, so you are always free to choose one according to your interior.
The look and comfort of this chair make it useable in the office at different hierarchies from employee to C.E.O. It hardly took me around 15 to 20 minutes in assembling it.
Its mesh back material will allow the cool air of the air condition to pass through. It cost around $143 which is a pretty good rate and also the company is giving a guarantee of 5 years.
So here are few drawbacks the bottom area should have been a little wide as it does not cover my knees and the armrest is not adjustable. Overall it's a genuine product at this price range.
Read More Reviews about this Chair Over On Amazon
C. SUNNOW Ergonomic Office Chair
I am really impressed with the design and comfort of this chair. While working from home this chair helped me a lot. I use it mainly while working, watching movies, and playing games.
Its wider headrest allows me to take a nap some time by placing my head on it. I must say that the assembly was very easy as the instruction provided was very helpful.
It comes with two types of wheels which are standard office chairs wheels and skate wheels. I use the standard wheel.
The amazing thing this that you can adjust the armrest inward outward, upward, and downward. The only drawback is that it isn't comfortable for a person above the height of 6"1.
Read More Reviews about this Chair Over On Amazon
7. Benefits of Ergonomics Chairs: 
The ergonomics chairs are far better than normal standard office chairs because they completely fit each user. It comes with different adjustable options.
Using an ergonomic chair will automatically improve your sitting posture and reduces hip pressure.
Like the normal chairs, you won't have to take regular breaks by standing again and again to stretch your body. These chairs are built in such a way that it relaxes the muscles of your upper body.
8. Justifying the cost: 
The biggest issue you will come across when telling your boss about a new chair is the cost. Maybe they will see it as an unnecessary expense. You need to tell them it can be a really good investment in the employees. 
Your goal should be to explain to them about productivity and reducing absenteeism that will help in covering the cost of the new chair.
Conclusion:
Your goal should be to convince your boss in such a way that they really think that buying you a new chair is not just an expense but also an investment in the company. You need to be more focused on talking about employee health, productivity, and less absenteeism.