Newly developed technological inventions have changed the way things used to work around us. Talking about chairs, which were ideally described as a furniture piece that had four legs, is now designed differently to suit the changing needs of people.
The modern chairs are designed using a single gas lift (gas lift is the load-bearing leg), which is located under the chair just in middle. This single-leg spreads into different small feet that are branched out on the floor. These feet are designed to include a wheel that simplifies the movement of the chair and makes it convenient. These wheels are called chair casters.
Casters provide better shape and support to your chair. These are the prime objects contributing towards the mobility of your furniture, and choosing the right one needs to be your utmost priority.
More About Chair Casters
Now that you already know, what exactly a chair's caster is, we further talk about the types of casters in detail. We would also mark differences between the types, and the ones which are most suited for your chair.
Basically, Casters are demarcated into two types;
• Soft Chair Casters
• Hard Chair Casters
Soft Chair Casters
Soft casters, as the name suggests are designed using a light or soft material, which is apt to be used on a hard surface. You need to be sure about the kind of floor you'll be using your chair on. If your floor is a carpeted one, or a cushion one, you cannot use soft casters because of its character of being lightweight.
These might get stuck in your carpet or won't move conveniently causing inconvenience most of the time. Thus, if your floor is made up of a hard surface, like hardwood, laminated, or tiled floor, you will need soft casters in your chair to do the needful.
Soft casters usually come at a little extra price, which is totally worth it. If by any chance you use hard casters on hard floors to save that extra cost, you might end up reducing the life of your chair. So be cautious!
The features of soft casters include the following;
• Soft casters would cause negligible damage to the floor, provided you use your chair aptly. Excessive rough use would in any way damage any furniture item you use.
• Soft casters made the ride easier, thus moving your chair from one place to another becomes more smooth and convenient.
• Soft casters are designed to bear both heavy and light loads on the chair. Hence they are sold at a higher price.
Hard Chair Casters
Hard casters on the other hand are designed to be used on cushioned or carpeted floors. Again this totally depends on the floor design, and if your office or home floor is carpeted or cushions, hard caster chairs are all you need.
Hard casters are easily moveable, hence when used on a carpet, they make moving convenient, but yes, if by any chance you use hard casters or hard floor, you might end up causing an injury to yourself.
Let's take a look at the detailed features of Hard Casters;
• Hard casters are more durable than the other category. Hence you need not worry about changing them really quick.
• They have the ability to maintain shape over time.
• To move the chair from one place to another, you'd need minimum force, and that's another benefit that follows.
• Hard casters are economical, and for heavy load applications, this option saves you money.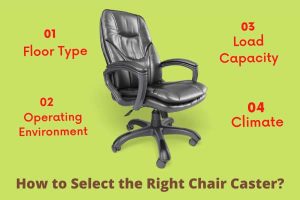 How to select the right caster?
Selecting the right caster requires a researched approach; hence we bring to you a few factors that would help you select the right caster for your chair.
1. Floor Type
As already explained above, taking the floor type into consideration is of utmost importance. Hard casters are designed for cushioned or carpet floors or on rugs, soft casters for hard floors. That's the rule.
2. Operating Environment
The environment in which you will use your chair is also a point of consideration. This basically means the time of use, the temperature at which you use the chair. Also, you will have to ascertain if your chair has to interact with chemicals during use, and other abuse.
3. Load Capacity
Determining the load on each caster is important, you need to carry a rough calculation for that matter. Just think about an average load you'll put on the chair, divide it by the number of casters, and this shall reveal the load each caster has to bear.
Hard casters are designed to bear more load than soft ones. However, the minimum load you put on each caster, the better would be the life of your chair. Heavier load means an increased level of friction on the heat on the caster, which eventually damages the caster.
4. Climate
You might never think about the climate conditions while choosing a caster for your chair. However, you should definitely take this factor into consideration. If you are using the chair in moderate climatic conditions that usually change several times in a year, your chair casters might last long. But, in case you are using your chair in extreme climatic conditions, the grease in the casters would get affected, causing degradation to the casters in long run.
Conclusion
If in case you fail to use the right caster you might end up causing damage to your expensive floors and also to the person using the chair. If your chair fails to carry your load, especially when you are moving from one place to other, it might just break causing a fall down. Thus, choosing the right caster is extremely important. Hope the guide helps you choose the right caster for your chair.