A floor chair is a type of furniture that is designed to be placed on the ground. It can be used for different purposes, such as reading, playing games, meditation, working, or watching television. Floor chairs are often made from fabric and have a sturdy construction so they do not tip over easily.
Everyone has his seating preferences; some people like to sit on the regular chairs while the others like to sit on floor chairs. These are inspired by our culture and religious customs as well.
What are Floor chairs?
These are just regular but are legless. The seating part is directly in contact with the floor. It is different from the regular seating from the fact that you can lean on the back support.
In one line you can have an experience of something like not directly on the floor, but also not sitting high above the ground.
Types of Floor Chairs
Floor Chairs are of 5 types and they are as follows:
1. Lounge Floor Chairs :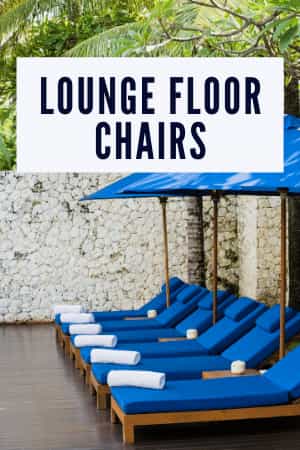 The most comfortable type of floor chair is a lounge chair. They were designed primarily to let the person stretch out in a lounging position. One can have more cushions in it.
They also come with armrests, but if you need one with no armrests, then it is also available in the market. One can sit, relax, stretch out in those lounge chairs. You can place them in your lounge, in bedrooms as well in high visibility spaces.
2. Swivel Floor Chairs :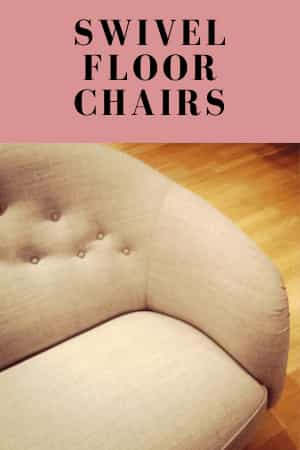 These are the chairs with swiveling motion. They have 360-degree motion, along with the adjustable motion. They also come with padded armrests. You don't have to repose, just move your chair and that is it.
3. Bean Bag Floor Chairs: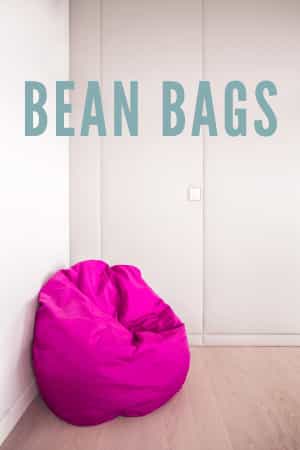 These are also called Sacco chairs. The word Sacco is Italian in its original meaning Bag. These are chairs are made up of polystyrene beans enclosed in a bean bag.
These were originally designed by Cesare Paolini and Franco Teodoro. The idea was started in America and Europe where the hippie culture was quite popular. The world adopted it later and it became a huge success.
There is an interesting thing about bean bag chairs is that they have some cheap types, which were used in the past. These types were then disapproved by the public because many children's injuries cases were reported about it.
4. Ottoman Floor Chairs: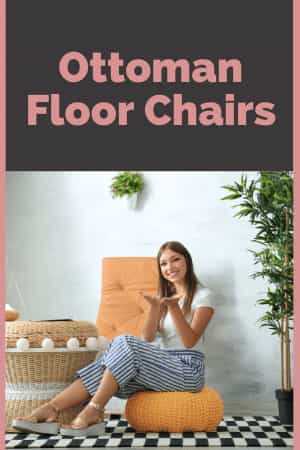 These are the most luxurious form of floor chairs, which were introduced in Europe in the 18th century. They are also very versatile in their shape. They do not have a back seat, unlike most floor chairs. They are only suitable for short periods of sitting.
5. Gaming Floor Chairs: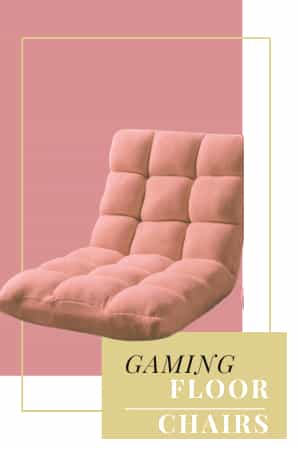 The most interesting type of floor chair is the gaming floor chair. As the name suggests, they are designed to enhance your experience of gaming. They also come with default speakers. The idea that they come up with no legs is a bit odd, however, that is again the question of preference.
They are a few other types of on-floor chairs available that have extra features of vibration and wireless headphones, etc. They are customized based on the interest of the user.
How do floor chairs work?
It has very simple working mechanics. The bean bag chair is the most unique one in which Polystyrene beads and a shape that adjusts to your body means greater lumbar support.
The fact that the polystyrene beads under the leather shells can shape themselves around a variety of postures provides you with great health benefits. Other chairs have foam or other soft material in them for you to sit down. The sheet is made up of cloth or leather-based on its price and quality.
Pros and Cons of Floor Chairs
Pros of Using Floor Chairs:
1. Health Reasons
There are some very obvious pros attached with floor chairs. One of them is that sitting on the floor is healthy. in the age of working through the day, health is a huge factor which you must look into while you go ahead and choose your furniture.
It makes sense thus, to choose bean bag chairs that provide superior lumbar and back support and help you become healthier.
While the first impression you might send is of a teenager lounging about, you are also helping your own back. The whole-body support system is something that pushes you for more and more.
2. Corrects Your Sitting Position
The floor chairs are good because they correct your posture. This was also the selling point of these chairs.
3. Better Positioning of the Body
The sitting style is more in line with the needs of your spinal needs and will reduce back pain in the future. You can lean on it in whatever posture you want.
Cons of Using floor Chairs:
1. Reduce blood circulation in legs
The blood circulation is reduced in the legs when you sit on the floor chairs. You may also need to change your posture many times.
2. Problems to the back in the long term
Bean bag chairs do not support your upper back, they'd be worse in the times to come. The older shapeless floor chairs lack any sort of upper back support, causing major back problems for people who used them for extended hours.
Your muscles would pain, and sometimes the posture also created permanent problems.
3. Not suitable for many workplaces:
Most of the workplaces do not like the idea of having floor chairs. It makes the working environment more informal.
Some of the conventional businesses such as banking and real estate might completely reject the idea of having floor chairs. I mean it is difficult to imagine a properly suited person to sit on an Ottoman floor chair. It completely contradicts the business environment of these places.
On the other hand, some businesses such as IT and fashion designers love the idea of having a freestyle business environment. Therefore, it varies from business to business
Where to buy floor chairs?
Floor chairs are not hard to get. You can purchase it on any online store such as Amazon, Shopify, etc. These are also most commonly available in all the furniture stores and big malls. If you want one for your house or workplace, then you will find plenty of options.
Conclusively speaking, Floor chairs are a perfect addition to your home, which will add an aesthetic look to your house and will also increase the net value of your house.
Where to buy folding floor chairs?
Floor chair is available on popular shopping sites like Amazon.com, Wayfair.com, walmart.com, and target.com. The price range varies from 26$ to 1800$ depending upon the brand, built up and fabric quality.
Amazon has the perfect range of floor chairs for adults, kids, toddlers, and for different purposes like meditation, gaming, reading, working, and more.
What are floor chairs called?
Floor chairs are also known as legless chairs, lazy lounge chairs, and sofa chairs. They are called legless chairs because they don't have any legs, unlike other chairs.
How to make floor chairs?
If you want to make a floor chair at home then here are some guides which will help you,
Keep visiting this space for more information on chairs, reviews, and buying guides.