Some things are natural and unavoidable, and odor is one of them. Be it your body odor or the bad stinky smell in your room. It can also be a suffocating scent on your mattress or a pesky stink on your home or office furniture.
Thus, talking about office chairs specifically, bad smell or stinky tang is quite natural, requiring immediate attention. Our simple and easy-to-follow guide will help you get rid of your office chair smell.
Furniture gets smelly with time, indicating it's time to clean up. Also, different kind of office chairs needs to be dealt with differently. Otherwise, you'll probably end up damaging that expensive piece of furniture.
Therefore, we bring you the most sorted piece of information on how to get rid of the stinky smell from your office chair.
First Step- Read the Instructions Carefully!
Every branded chair comes with a cleaning manual that includes the necessary instructions. So, to avoid damage to your chair type, read the instructions well.
Below mentioned are a few common codes that are usually found in the manual.
W- It suggests, water-based cleaning is recommended.
S- Clears that using a solvent is fine. However, here you should avoid using water.
WS or SW- It suggests you can use both solvent and water.
X- Indicates cleaning under professionals only.
C- This code indicates that your chair uses a proprietary fabric known as Crypton. Therefore, it requires special care.
Following the instructions is essential. As otherwise, you'll not be able to claim any damages.
Second Step- Effective Cleaning
Effective cleaning can be done using various methods. Depending on the type of material and odor, you need to choose different cleaning methods.
We here will sort out the most common cleaning methods that are proved to render great results.
1. Let your chair get the sun-bath!
The direct ultraviolet rays from the sun are meant to break down both natural and synthetic particles. In addition, sunlight is proved to remove the nastiness that causes a bad odor.
Therefore, putting your office chairs into direct sunlight proves to be an effective and economical solution. It is super-easy as well. However, while using this method to de-odor your chair, you need to consider some key points. Read below;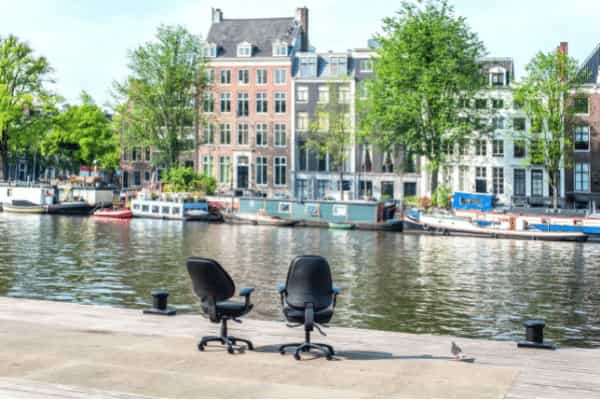 Avoid putting leather chairs under direct sunlight, as this process will break the leather, causing more damage.
Different fabrics used in a chair can fade under direct sunlight. Therefore, you need to be very careful in keeping your office chairs under direct sunlight, especially those made using fabrics.
Chairs made using vinyl and mesh can be exposed to sunlight.
Note: Make sure you do not put any furniture piece under direct sunlight for more than 30-45 minutes. As much as the sunlight will prove effective in removing bad odor, it will cause fading, breaking, or even damage the chair's outer look. In addition, stay alert about the weather conditions while your furniture is left outdoors.
2. Vacuum it deeply!
The mere process of vacuuming the chair can take away a lot of nastiness. Even the most close-knit chair material can gather a lot of dust particles and other forms of dirt.
So, if you are under the impression that your chair isn't made of such a material that could gather dust and dirt, you are wrong, my friend.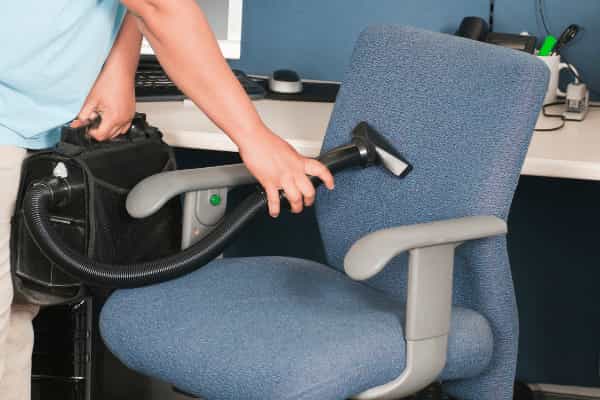 A vacuum with a strong suction capacity can pull out the most troublesome dirt particles. And, if you have not cleaned up your chair for a long time, you'll see a noticeable change after this process.
However, vacuuming alone won't deodorize your chair; you'll have to take other measures to remove the foul air.
Note: Perform repeated vacuuming. Just one shot might not be enough to remove all the dust.
3. Clean it Using Baking Soda
Goes without saying, baking soda is one of the most powerful cleaners used in household chores. Baking soda is proven to neutralize the bacteria membrane's pH, which contributes efficiently.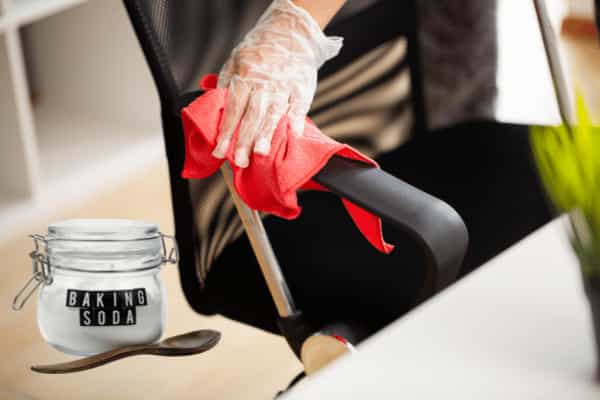 Follow the steps mentioned below to get the desired results.
Step 1: Get your chair outdoors, under the sunlight if possible.
Step 2: Sprinkle and spread a generous amount of baking soda on the chairs.
Step 3: Rub it gently to let the material absorb the baking soda particles. Again, make sure you rub it gently, as you don't want the chair to get scratched.
Step 4: Leave it as it is for some time, overnight if possible.
Step 5– Vacuum off the baking soda. Do it properly to remove even the finest particles.
Note: You need to vacuum even the smallest particles, just like professionals. If you end up lazy, these particles will get stuck into your chair, and the chemical reaction won't stop. Furthermore, this might cause other issues like fading, cracking, etc.
4. Vinegar is the third most popular cleaning tool!
Besides sunlight and baking soda, vinegar is known as one of the three best green cleaning tools. However, vinegar is acidic, and if you do not use it calculative, you might encounter damages.
Therefore, you should always use vinegar in combination with water. A 50-50 percent mix is suitable for cleaning chairs and other furniture.
The process of vinegar cleaning should also be carried out in the sunlight to avoid the accumulation of any chemical scent.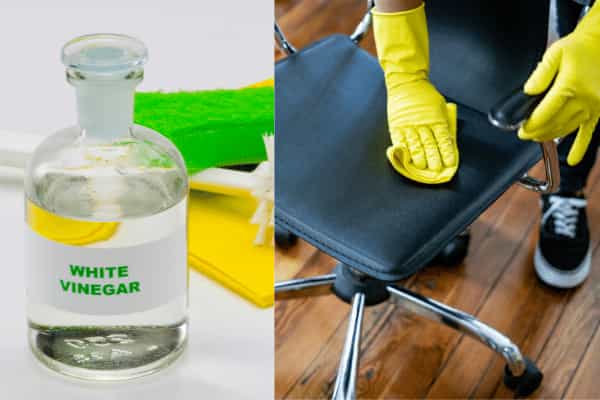 For proper understanding, let's take a look at the steps below;
Step 1: Bring your chairs out in sunlight or in a room that allows proper ventilation.
Step 2: Use a spray bottle, and put 1 part of vinegar with 1 part of water. Mix well!
Step 3: Spray the mixture on your office chair. Make sure to cover all parts adequately.
Step 4: Leave it to dry.
Step 5: Repeat the process if you think your chair needs it.
For your information– A strange smell might follow the cleaning process, and you need not worry about it because it's vinegar. The odor of vinegar will fade away with time, especially if you are performing this cleaning process in sunlight.
Note: Vinegar might not go well with some chair materials. Always make it a point to do a patch test; as otherwise, you'll end up damaging your chair. Also, according to experts, vinegar might cause discoloration or damage to your furniture.
5. Steam Cleaners for Chair Fabrics
Steam cleaner is one of the most appropriate cleaning tools to wash fabric chairs. Steam cleaners infuse hot moisture into the surface, and you can also add chemical cleaners mixed with water in your steamer.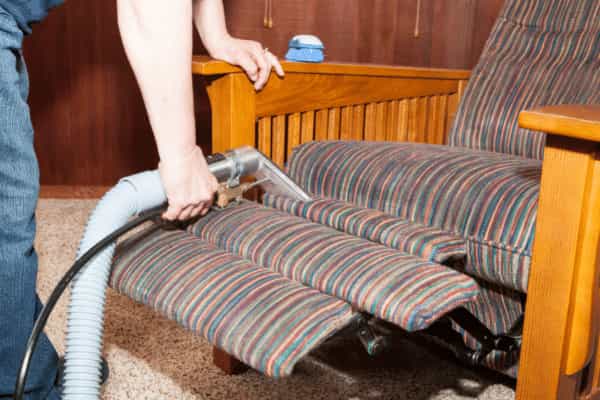 Furthermore, the dirt, dust, and other odor-causing compounds are sucked out using the suction technique.
Note: Do not use steam cleaning technique on leather chairs. You'll end up damaging it.
6. Rubbing Alcohol is effective too!
Rubbing alcohol is yet another great way to clean your office chairs. It suits all kinds of chairs, be it a fabric chair or leather one. However, you should be cautious while using rubbing alcohol as a cleaning agent.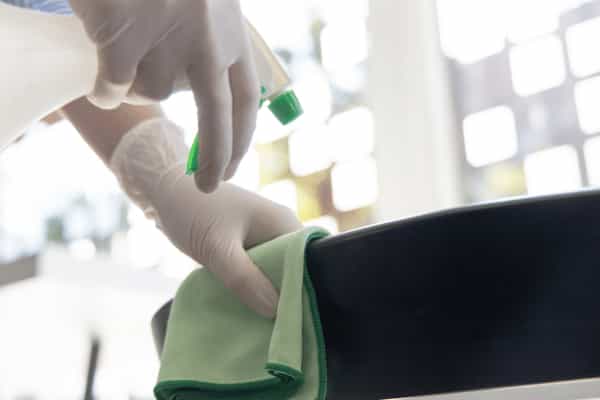 Rubbing alcohol has a strong scent, and you should always use it in a properly ventilated room or outdoors.
Rubbing alcohol can counterbalance any organic particles or chemicals causing a bad odor. In addition, it self-evaporates from the surface after a while, leaving your chair fresh and odor-free. Let's see how to use it efficiently.
Step 1– Use rubbing alcohol on a big piece of cotton or a piece of cotton fabric.
Step 2– Rub the fabric on your chair, specifically the areas you wish to clean.
Step 3– Keep the chair in a ventilated room or under the sunlight for 30-45 minutes.
Step 4– The chair becomes fresh and dry on its own.
Note: Rub the cloth gently and be cautious about the amount of alcohol you use. Too much solution might result in color fading.
PRO TIPs to Clean Your Office Chair
Now that you already know the different methods to clean your office chair, here's a pro-tip;
Regular Cleaning and Disinfection are the keys!
Please do not wait for your chair to get into its worst condition. Instead, make it a point to clean it regularly and disinfect it at the same time. A mere 15-minute sun exposure once in two weeks will keep your chairs in good condition for the long run.
Follow the below-mentioned steps regularly and avoid rigorous cleaning days;
Step 1: Wipe your chair twice a week using a duster or dry cloth.
Step 2: Vacuum the surface at least once a month. It will prevent the accumulation of dirt and dust, causing a bad odor.
Step 3: Use cotton or a microfiber cloth, spray disinfectant, or cleaning agent and rub it on the chair. Do it gently to avoid further damage.
Step 4: Follow deep cleaning methods once a month. Also, use a disinfectant spray to leave it under the sun for a few hours.
Step 5: Try and keep your office space ventilated. It will prevent the development of bacteria and fungi on chairs. Keep the windows open for at least 30-40 minutes a day.
Besides this, if the condition of chairs worsens, you should consider calling professional cleaners. They'll do the job proficiently, without you bothering. They are trained to remove the hardest stains and odors.