Hardwood floors can create a cohesive look on your office floor. But continuous rolling of office chairs on the hardwood floors can cause scratches, scuff marks, or dents. To avoid this issue, most people think of buying glass chair mats. 
But they are costly and will limit your office chair movement. Additionally, you must maintain it occasionally; otherwise, it can lead to scratches on the hardwood floor.
The article discusses why you should not buy a glass mat for hard floors. So, you can keep reading this article to know more about the limitations of using a glass chair mat under the rolling office chair.
Why You Should Not Buy A Glass Mat For Hard Floors
Glass mats can provide an extra small floor for the office chair. Again, the glass's rigidness can make the office chair rolling easier. The glass mats even increase the professional look of your workspace. So, most of us consider purchasing it and protecting the hardwood floors from scratches and dents.
But it has certain limitations, too. We are outlining them below.
1. Glass Chair Mats Are Expensive
If you purchase a glass chair mat, it will cost you between $70 and $800.If you buy small-size glass mats, i.e., 36* 48 inches, then it will cost you a bit less. But if you purchase a large glass chair mat, then it will cost you more.
The glass chair mats usually consist of tempered glass and have nanotechnology coating. It is the only reason why they are pretty expensive.
But spending a lot of money to protect your hardwood floors is only sometimes the best option. 
You aim to roll out the office chair smoothly without damaging the hardwood floors. You may choose plastic floor mats to get rid of the solution. They will cost you one-tenth of the cost of the glasschair mats.
2. Glass Chair Mats Restrict Movement
Glass chair mats can only protect a particular area of your office floors. But what about other areas of your office floors?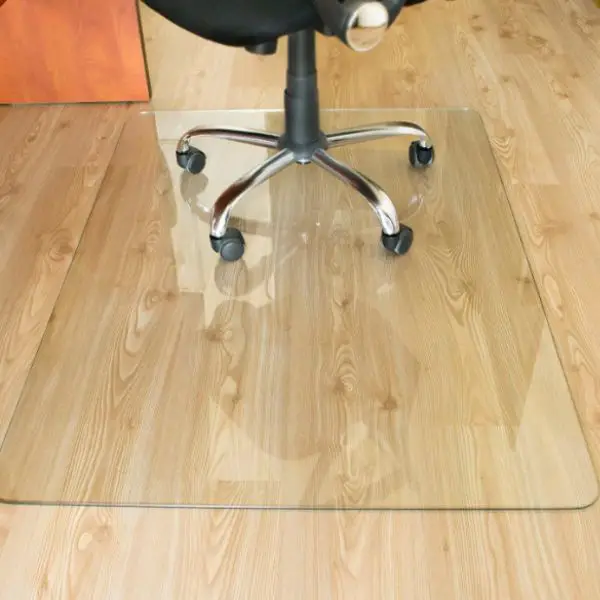 If you put a glass chair mat, then you can roll on your chair in 36 *48 inches areas. If you are comfortable with it, why do you need wheels on your chair? 
Remember, rolling chairs are designed to move smoothly everywhere around the office. It even helps to reduce strain on your body.
So, in short, glass chair mats make area restrictions for moving your rolling office chair. If you move out of it, it will damage your office's wooden floors.
3. Glass Chair Mats Are Difficult To Install
Glass chair mats weigh in between 38lbs and 82lbs. If you purchase the small size, it weighs around 38 lbs.
There are chances that the glass chair mats may break during shipping. Additionally, they are pretty tricky to install.
Two persons must bring the glass chair mats to the desired location, unpack them, and carefully place them in the office.
4. Glass Chair Mats Require High Maintainance
Glass chair mats in your office require frequent maintenance. A small gap is usually between the glass chair mats and the floor. 
Hence, the dirt and debris can easily collect underneath the glass chair mats. If this debris slides on the glass surface, it can scratch the wooden floors. So you need to clean the floor and underneath the glass chair mat weekly.
But two persons must lift the glass mat and put it on the side for cleaning. You must vacuum and mop the specified area to remove dust and debris. Simultaneously, you need to clean the underneath of the glass properly. 
Finally, the mat will be put back in place.
What Is The Best Solution To Protect The Hardwood Floors?
Glass chair mats are expensive and quite challenging to install and maintain. So we do not recommend it as the best choice to put under your office floor. 
Most rolling office chairs have plastic wheels, which usually scratch on the wood floors. Well, you can remove these wheels and replace them with rollerblade-style casters. The chair casters play an important role in the movement of the chair.
The wheels are encased in a soft polyurethane material, guaranteeing they won't scratch or have scuff marks on the wooden floor. Additionally, the ball bearings can roll smoothly all over your office room, which is beneficial.
The rollerblade-style casters can move smoothies not only on hardwood floors but also on laminate, tiles, or bamboo floors. 
Here are the best rollerblade chair casters from Amazon.
Conclusion
Glass chair mats undoubtedly will protect a specified area on the hardwood floors. But what about other places? Rolling your office chair on other sites can create dents or scratches on the wooden floor. 
Again, the glass chair mats are expensive and difficult to install and maintain. You require two persons to help to remove and set back in place weekly. Removing and placing may cause breakage of the glass during cleaning.
The best option is to replace the plastic wheel of the office chair with roller blade-style casters. They can smoothly glide everywhere on your office floor. These casters even guarantee that they will not damage the wooden floor.